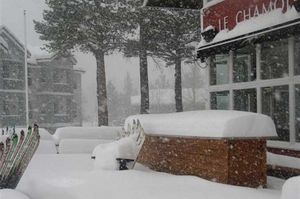 Ice in the Arctic is often twice as thick as expected,
report surprised scientists
who returned last week from a major scientific expedition. The scientists - a 20-member contingent from Canada, the U.S., Germany, and Italy - spent one month exploring the North Pole as well as never-before measured regions of the Arctic.
Among their findings: Rather than finding newly formed ice to be two metres thick, "we measured ice thickness up to four metres," stated a spokesperson for the Alfred Wegener Institute for Polar and Marine Research of the Helmholtz Association, Germany's largest scientific organisation.
Then we get
this
from the United States: "Sorry, Al Gore, but Public Cares About the Economy, Not Global Warming".
Gallup Poll Editor Frank Newport says he sees no evidence that Al Gore's campaign against global warming is winning. "It's just not caught on," says Newport. "They have failed." Or, more bluntly: "Any measure that we look at shows Al Gore's losing at the moment. The public is just not that concerned." What the public is worried about: the economy.
He adds: "As Al Gore I think would say, the greatest challenge facing humanity . . . has failed to show up in our data."