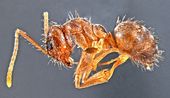 A destructive menace is heading west on Interstate 10 toward San Antonio.
It's the crazy Raspberry ant that was first spotted in Houston in 2002. No one knows where it came from or how to control it, but it reproduces faster than any insect experts have ever seen.
"This is an alien species,"
says Sam Houston State University Entomologist Dr. Jerry Cook. "This is in higher densities than any other insects I've ever seen. They number in the billions and cover everything around them."
"Where you'll have 200,000 ants in a big fire ant mound, you'll have billions of crazy ants in one area, in that one group. They form a carpet of ants over acres that is several inches thick."