For all of us on the Gulf Coast, lightning is nothing new. But many people have never seen a lightning trench as visually compelling as one we heard about at a local family cemetary.
This story first began after the Labor Day Weekend. The strike left behind the mysterious trench that has family members checking for any damage to their families graves.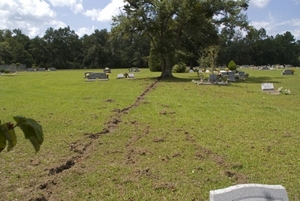 ©Alan Sealls, WKRG-TV
Lightning trench in West Mobile created when lightning struck tree, travelled down to ground and then horizonatally just below ground surface.