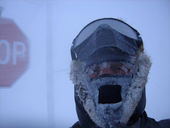 It's March now, how March should be-blue and sunny, twenty to thirty below in the morning with daytime highs rising to zero. Winter is slipping into memory, but we still have the drifts around Kotzebue to remind us.
January brought a longer-than-usual stretch of 30 and 40 below weather. We got restless, on the verge of cabin fever. We thought we deserved a break. Then the storms came, blizzards after blizzard--so often that we might as well have painted our windows white. Not that the paint would have stayed on.
Kotzebue is supposed to be stormy, but this year was more like drowning-we'd get a blow, and if we were lucky have a day to come up for air and shovel out, and then get hit with it again.