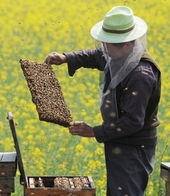 When I was teaching at Humboldt State University in northern California 20 years ago, I invited a beekeeper to talk to my students. He said that each time he took his bees to southern California to pollinate other farmers' crops, he would lose a third of his bees to sprays. In 2009, the loss ranges all the way to 60 percent.
Honeybees have been in terrible straits.
A little history explains this tragedy.
For millennia, honeybees lived in symbiotic relationship with societies all over the world.
The Greeks loved them. In the eighth century BCE, the epic poet Hesiod considered them gifts of the gods to just farmers. And in the fourth century of our era, the Greek mathematician Pappos admired their hexagonal cells, crediting them with "geometrical forethought."