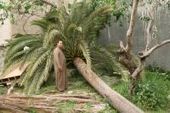 Hajj Abu Ala Al-Eteili wept when he awoke to find that high winds knocked down a 270-year-old palm tree in his garden in the West Bank city of Tulkarem on Monday morning.
Al-Eteili told
Ma'an
that that the tree was knocked down in the early morning hours. He said his father and grandfather were born during the tree's lifespan.
He said that he had cared for the tree his entire life and had taught his children to care for it.