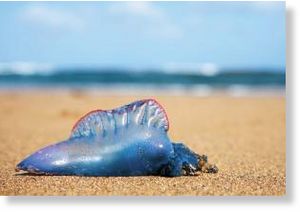 Anyone planning to take a Mediterranean holiday in defiance of the plunging pound may be stung by something more painful than the exchange rate: the killer Portuguese Man o' War, one of the world's most poisonous jellyfish. The graceful glutinous creature, whose trailing tentacles carry a potentially lethal poison, was spotted this week off Spain's favourite beaches for the first time in 10 years.
Swept by westerly winds through the Gibraltar Strait from its north Atlantic habitat,
Physalia physalis
is set to colonise the Med and cause more pain to beleaguered holidaymakers.
Clusters of up to 50 Men o' Wars, which are not strictly jellyfish but floating colonies of microscopic hydrozoans, are drifting off the Murcian resort of San Pedro del Pinatar on Spain's Costa Calida. Scientists say they could soon invade waters around the Balearic Islands and advance towards the Catalan coast.
With a sting 10 times stronger than an ordinary jellyfish, it presents a more dangerous threat than the annual jellyfish invasion of beaches in Spain, France, Italy and North Africa.