The fear of anthropogenic global warming is based almost entirely upon computerized climate model simulations of how the global atmosphere will respond to slowly increasing carbon dioxide concentrations. There are now over 20 models being tracked by the IPCC, and they project levels of warming ranging from pretty significant to catastrophic by late in this century. The following graph shows an example of those models' forecasts based upon assumed increases in atmospheric carbon dioxide this century.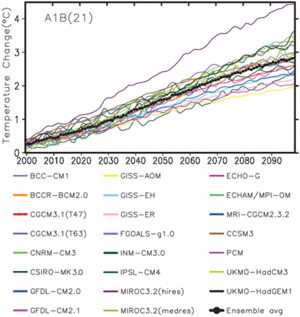 While there is considerable spread among the models, it can be seen that all of them now produce levels of global warming that can not be ignored.
But what is the basis for such large amounts of warming? Is it because we know CO2 is a greenhouse gas, and so increasing levels of atmospheric CO2 will cause warming? NO!...virtually everyone now agrees that the direct warming effect from extra CO2 is relatively small - too small to be of much practical concern.