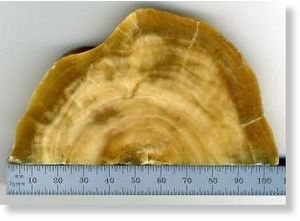 The decline of the Roman and Byzantine Empires in the Eastern Mediterranean more than 1,400 years ago may have been driven by unfavorable climate changes.
Based on chemical signatures in a piece of calcite from a cave near Jerusalem, a team of American and Israeli geologists pieced together a detailed record of the area's climate from roughly 200 B.C. to 1100 A.D. Their analysis, to be reported in an upcoming issue of the journal
Quaternary Research
, reveals increasingly dry weather from 100 A.D. to 700 A.D. that coincided with the fall of both Roman and Byzantine rule in the region.
The researchers, led by University of Wisconsin-Madison geology graduate student Ian Orland and professor John Valley, reconstructed the high-resolution climate record based on geochemical analysis of a stalagmite from Soreq Cave, located in the Stalactite Cave Nature Reserve near Jerusalem.