UPDATE:
Quake upgraded to 8.0

HONIARA, Solomon Islands - A powerful magnitude-7.6 earthquake struck off the Solomon Islands on Monday, sending a tsunami wave crashing into the country's west coast and prompting region-wide disaster warnings, officials said.
Sgt. Godfrey Abiah said police in the capital, Honiara, reported a wave several yards high had crashed ashore in the western town of Gizo shortly before communication lines with the region were cut.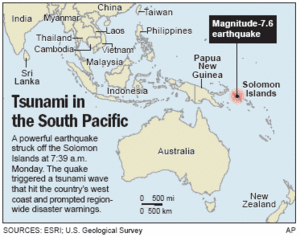 ©AP