For two decades, scientists have puzzled over why vast blooms of microscopic plant life grow in the middle of otherwise barren mid-ocean regions. Now a research team led by the Woods Hole Oceanographic Institution (WHOI) has shown that episodic, swirling current systems known as eddies act to pump nutrients up from the deep ocean to fuel such blooms.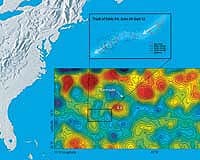 ©Dennis McGillicuddy, WHOI, and the Colorado Center for Astrodynamics Research
Data from satellite altimeters, which measure sea surface heights, show depressions (blue) and bumps (red) that mark cold- and warm-water eddies in the ocean on June 17, 2005.