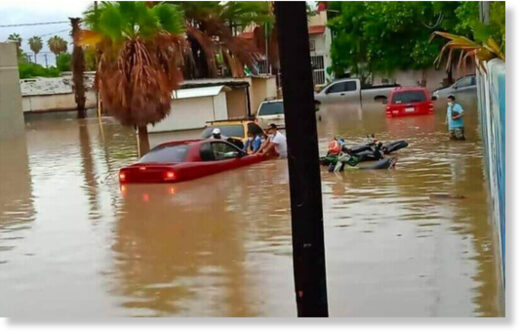 Almost 200,000 electricity customers lost power on Thursday night after Hurricane Olaf brought strong winds and heavy rains to the southern portion of the Baja California peninsula.
With sustained wind speeds of 155 kmh and gusts to 185,
Olaf made landfall as a Category 2 hurricane near San José del Cabo, Baja California Sur, at about 9:00 p.m. Once over land, Olaf was downgraded to a Category 1 hurricane before being degraded again to a tropical storm.
Only minor damages from the storm have been reported.
The Federal Electricity Commission reported that just under 192,000 customers in Los Cabos and La Paz lost power due to the storm. But service to 30% of affected customers was restored by Friday morning, the utility said.
The ISSSTE General Hospital in La Paz lost power at 12:40 a.m., provoking concern among people whose family members are receiving treatment in the facility.