Earth Changes
Shanghai Eye
YouTube
Sun, 12 Sep 2021 18:25 UTC
---
Michael Fox
pri.org
Fri, 10 Sep 2021 14:36 UTC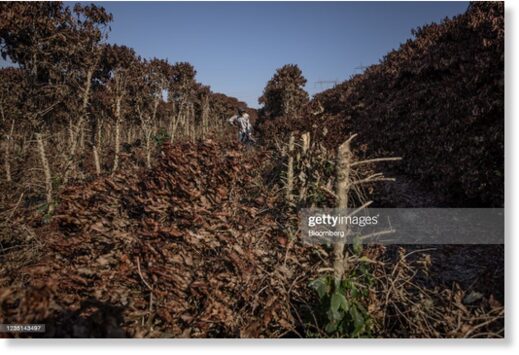 It's a typical weekday afternoon at Red Emma's coffee shop in Baltimore, Maryland. A handful of people sit chatting over wooden tables in the large open dining area.
Behind the counter, barista Najee Haynes-Follins makes an iced Americano at the machine. She's a member of the worker's co-op that owns and runs the coffee shop, restaurant and bookstore.
"What do I love about coffee?" Haynes-Follins asked. "I have ADHD, so stimulants are useful to me and so if I'm gonna focus in the morning, I'm usually drinking a cup of coffee in order to keep me a little bit in line."
She said Red Emma's coffee prices have stayed roughly the same recently. But that it might not be for long, due to
a major glitch in the global coffee supply. Brazil, the world's largest coffee exporter, was hit by unprecedented extreme weather that seriously damaged coffee crops — which may ultimately drive up the cost of coffee around the world.
In late July, southern Brazil was hit by uncommon freezing temperatures. Snow blanketed many hillsides. In coffee-growing regions, frost covered the fields. In one video shared online, a farm worker inspects coffee plants that have been devastated by the frost in the state of Minas Gerais. The leaves are dead and brown. The coffee beans are black and encased in ice.
---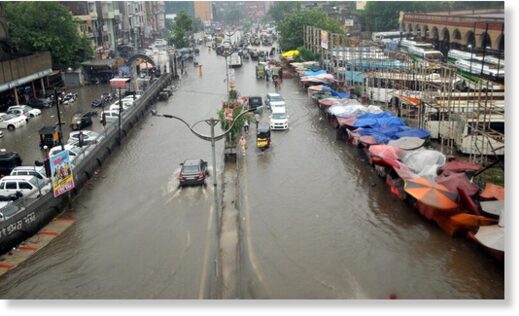 Rain for around six hours
on Friday not just left the entire holy city flooded, but also exposed monsoon-ready claims of the Amritsar Municipal Corporation. Irked residents raised questions on crores of rupees spent in the name of desilting.
Not just low-lying areas, the Heritage Street, Katra Jaimal Singh, Katra Ahluwalia, Outer Ring Road, GT Road, BRTS lanes, bus stand, Mall Road, MM Malvia Road, Majitha Road, Batala Road, Mall Road, Putlighar, Khalsa Collage lane, SSSS Chowk and several areas of the walled city remained inundated.
---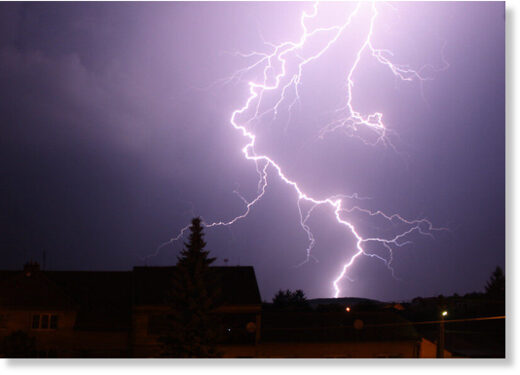 At least 14 people, including women and children, were
killed as lightning struck three homes in a remote village of northwest Pakistan on Sunday.
Violent rains, coupled with lightning and thunder, began on Saturday night and continued till the early hours of Sunday, destroying the three mud houses in Khyber Pakhtunkhwa (KPK) province's Torghar village, officials said.
These mountainous districts under Hazara Division are usually prone to mudslides and rain-related incidents during the monsoon months.
---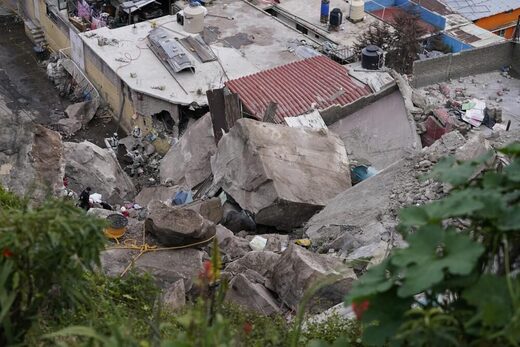 A section of mountain on the outskirts of Mexico City gave way Friday, plunging rocks the size of small homes
onto a densely populated neighborhood
and leaving at least one person dead and 10 others missing.
Firefighters scaled a three-story pile of rocks that appeared to be resting on houses in Tlalnepantla, which is part of Mexico state. The state surrounds the capital on three sides.
As rescuers climbed the immense pile of debris, they occasionally raised their fists in the air, the familiar signal for silence to listen for people trapped below. Firefighters and volunteers formed bucket brigades to pass 5-gallon containers of smaller debris away as they excavated.
Comment:
The quake mentioned above, that happened on September 7th, coincided with the anniversary of another large quake, an M8.2, that happened on the exact same date back in 2017. On September 19th 2017, just 12 days later, another large M7.1 struck, and that coincided with the anniversary of a particularly destructive M8 quake that hit back in 1985; and that citizens remember well, with sorrow and dread. And so, understandably, residents are particularly nervous about this coming anniversary, on September 19th, and whether this apparent pattern of these quakes will prove true:
September 19, 1985 M8.0
September 7, 2017. M8.2
September 19, 2017. M7.1
September 7, 2021. M7.1
See also:
For more on why there may be some truth to residents fears that there really is a pattern emerging with these quakes, check out SOTT radio's:
---
AP
Sat, 11 Sep 2021 17:33 UTC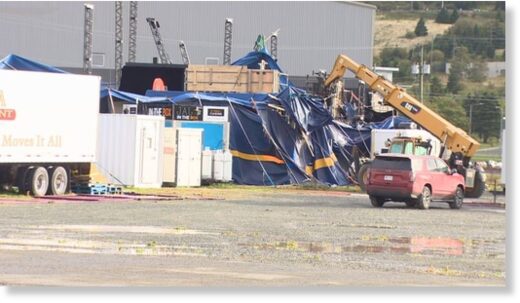 People in the Canadian Atlantic coast province of Newfoundland woke up Saturday to streets littered with branches and debris, torn and tossed around by the ferocious winds of Hurricane Larry.
Larry made landfall as a Category 1 storm just after midnight Friday along the southern coast of the island,
bringing sheets of rain and sustained winds of 130 km/h (80 miles)
across the Avalon Peninsula, which includes the provincial capital of St. John's.
The city's streets were lined with fallen branches Saturday morning, and trees were uprooted and overturned on many lawns.
A small crowd gathered around Mary Queen of Peace elementary school Saturday, shaking their heads slowly as fragments of the school's shredded roof whipped around in the remaining winds. A large part of the roof was blown clear off the building and lay in a heap of siding and nail-riddled boards on the ground some distance away.
---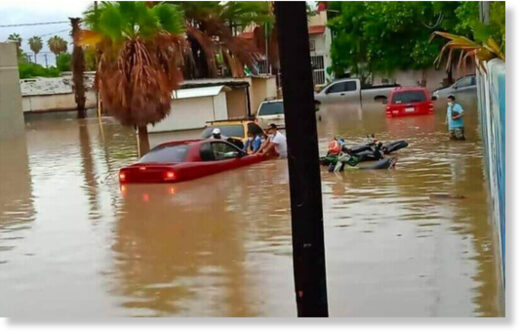 Almost 200,000 electricity customers lost power on Thursday night after Hurricane Olaf brought strong winds and heavy rains to the southern portion of the Baja California peninsula.
With sustained wind speeds of 155 kmh and gusts to 185,
Olaf made landfall as a Category 2 hurricane near San José del Cabo, Baja California Sur, at about 9:00 p.m. Once over land, Olaf was downgraded to a Category 1 hurricane before being degraded again to a tropical storm.
Only minor damages from the storm have been reported.
The Federal Electricity Commission reported that just under 192,000 customers in Los Cabos and La Paz lost power due to the storm. But service to 30% of affected customers was restored by Friday morning, the utility said.
The ISSSTE General Hospital in La Paz lost power at 12:40 a.m., provoking concern among people whose family members are receiving treatment in the facility.
---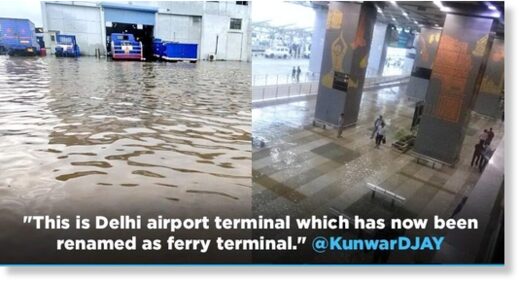 The forecourt of the Delhi airport was water-logged for a "short period" on Saturday morning due to sudden heavy rains, its operator Delhi International Airport Limited said.
As per reports, the Safdarjung observatory has now recorded a total of 1,100 mm of rainfall this monsoon season in the National Capital. Breaking the record of a seasonal rainfall of 2003 when 1050 mm rainfall was recorded, this is now the highest record of rainfall in the city in the last 46 years — after 1975, when the season had a total of 1150 mm rainfall.
Sources said five flights were diverted from the airport in the morning due to the bad weather conditions.
The Delhi International Airport Limited (DIAL) said on Twitter that "due to sudden heavy rain, for a short period, there was waterlogging at the forecourt".
"Our team was immediately aligned to look into it and the issue has been resolved," it added.
---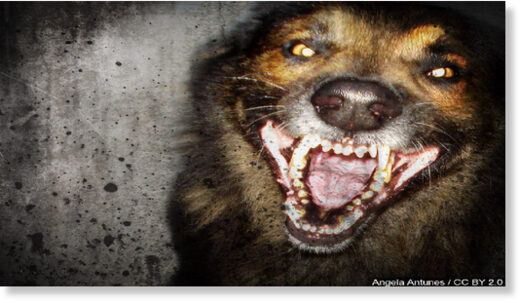 An elderly woman has died three weeks after being mauled by a dog in a Welsh town.
The 72-year-old
sustained severe injuries in the incident
, which happened in Goodwick in Pembrokeshire on Tuesday, August 10.
The woman, who has not been named by police, was airlifted to Morriston Hospital following the attack, which involved an American bulldog that was later put down.
She received "critical care treatment" from medics on-board a Wales Air Ambulance helicopter and further treatment once she arrived at the hospital.
---
---