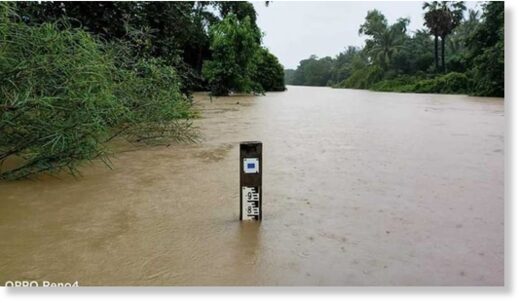 Recent floods have caused damage to 4,870 hectares of rice fields, 23,290 metres of 17 roads and the homes of 161 families in five districts in Banteay Meanchey province due to the rain and water flowing from Battambang province.
Mongkul Borei district governor Roth Dasinang warned local people during this week to prepare food and medicine, store family documents safely in a waterproof container, shut down electricity, keep an eye on children and be careful of snakes.
Dasinang said on Monday that flash floods appear suddenly and quickly reach an emergency level.
"If the rain continues, we cannot estimate how flooded it will be," Dasinang said.
Malai district governor Em Sokha yesterday told
Khmer Times
that 573 families in Boeng Chhong Ruk Techo's development in Tuol Pong commune's Tuol Prasat village were affected, while authorities have prepared several shelters at places such as markets, schools, hospitals and pagodas which could keep 1,000 families safe in case of an emergency caused by flash floods.