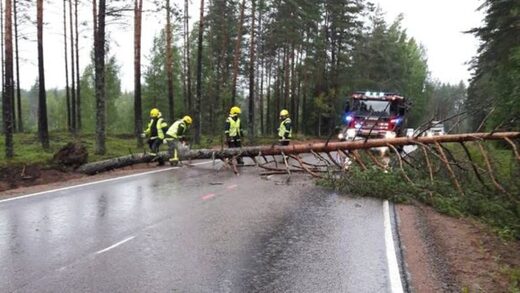 Almost 60,000 households were left without electricity Wednesday morning after summer storm Päivö brought down power lines across various parts of Finland overnight.
The Finnish Meteorological Institute's (FMI) meteorologist Helena Laakso said that while the storm itself is over, some regions are still due for more rain or thunderstorms which could be severe in some areas.
FMI tweeted around midnight on Tuesday that Päivö's strong winds had shifted from Upper Savonia and Upper Karelia towards eastern Kainuu. The force of the gusts were described as dangerously strong and residents were encouraged to stay indoors until the storm passed.
It could take a few days to restore electricity to households in areas stretching from southern Savo to Kainuu, according to authorities.
The power cuts could also affect the functionality of mobile networks, including communications to emergency services, according to northern Karelia's rescue unit, which advised residents to head to local fire departments if emergency services calls cannot be made.
The summer storm tore across southern Finland, first eastward then took to the north on Tuesday.