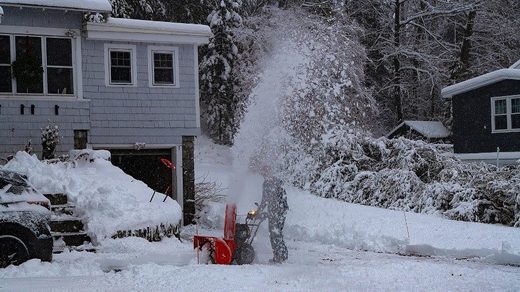 Parts of New England are in for more heavy snow on Tuesday.
The winter storm that blanketed much of the Northeast with snow on Monday, disrupting travel and closing schools, is expected to keep hammering parts of New England on Tuesday.
As the storm system moves slowly northeastward, some areas could get an additional foot of snow overnight and into the morning, forecasters said. Winter storm warnings and advisories were posted for most of Massachusetts, New Hampshire, Vermont and Maine.
"It's going to get cranking tonight and tomorrow morning," said Frank Nocera, a meteorologist with the National Weather Service in Norton, Mass. Metropolitan Boston, which already had four to eight inches of snow in some suburbs, could see those amounts double by Tuesday, he said, and further school closings and commuting problems were possible.
The storm delivered the first major snowfall of the season in the Northeast, but other than coming at a relatively early date, it did not pack many surprises for weather experts.