Comment:
UPDATE 14 Nov 2023
YouTube appears to have "terminated"
the entire SOTT Media channel
- which archives 10 years' worth of monthly Earth Changes Summary videos - after some jealous 'extreme weather upstart channels' claimed copyright on several seconds' worth of footage used in several 2023 Earth Changes Summary videos.
Fair Use
by an all-volunteer staff working for a non-profit organization apparently means nothing to ruthless corporate mercenaries who are only in it for the clicks and notoriety. Unless or until our channel is restored on YouTube, SOTT Summary videos will be posted on our
Odysee channel
.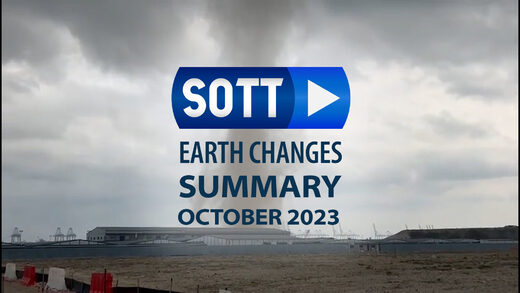 As we approach the midpoint of Solar Cycle 25, which has had the lowest solar activity in about 200 years, we are experiencing cooler-than-average temperatures and unseasonable snow across the globe.
The
Old Farmer's Almanac
predicts a harsh winter for the Northern Hemisphere, with above-normal snowfall in most snow-prone areas of the U.S., with storms, showers, and flurries continuing into early spring. America's
first Arctic blast
of the season broke hundreds of low-temperature records and resulted in the most extensive late October-early November snowpack in NOAA records.
Heavy snow blanketed the Rocky Mountains, the northern Plains, the Great Lakes and northern New England, resulting in 17.9% of the Lower 48 being covered by snow by the time the calendar flipped to November - a new record in books dating back to 2003.
But the northern hemisphere was not the only one experiencing unseasonable cold temperatures and snow, South Africa got blanketed by snow in Spring!
So far, the signs of a solar minimum-induced ice age are becoming clearer and more present, so prepare accordingly.
October has also been marked by unusually severe storms around the world. In just one week, we've seen eight different tropical cyclones make landfall around the globe, from Yemen to China, Vanuatu, Mexico, and the Leeward Islands.
Some of the most intense storms during this month: