Earth Changes
---
Richard Davies
Floodlist
Wed, 15 Sep 2021 11:00 UTC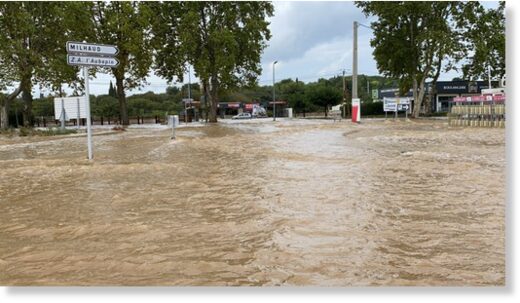 Torrential rainfall of 244 mm in just 3 hours caused flooding in parts of Gard Department in southern France on 14 September 2021. Dozens of people were rescued and one person is reported missing.
Hundreds of firefighters were deployed to the area and carried out 450 interventions. The departmental government of Gard said one person is missing in the town of Aimargues after falling into the Le Rhôny river.
Around 30 people were rescued - some by helicopter - after vehicles were trapped on the A9 motorway in the communes of Langlade and Gallargues le Montueux.
At least 10 people were airlifted to safety by helicopter in the municipality of Aigues-Vives, one of the hardest hit areas. Rescues were also carried out in the towns of Uchaud, Bernis, Calvisson and Boissieres. Part of a building collapsed in Caissargues. No injuries were reported.
---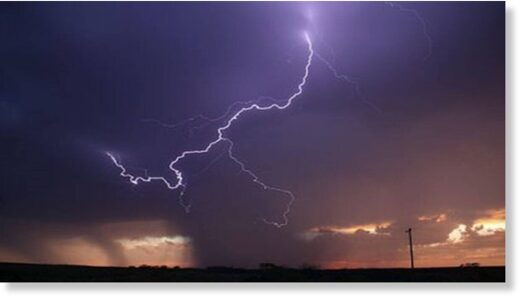 Jharkhand recorded 322 human deaths and 882 animal deaths due to lightning strikes in 2020-21 - the highest in the last three financial years - according to data released in the state Assembly in a response to a question by a Jharkhand Mukti Morcha MLA Sudivya Kumar.
This is the first time that the state has released such specific data. Earlier, the Climate Resilient Observing Systems Promotion Council (CROPC), a non-profit organisation that works closely with
India Meteorological Department (IMD), released an all-India report in December 20202, which stated that in Jharkhand in 2018-19 and 2019-2020, 118 and 172 people died respectively.
To MLA Kumar's query on the number of lightning deaths and whether lightning rods have been installed in all districts, Disaster Management Minister Banna Gupta responded in writing, "332 and 882 animals died in 2020-21...There is no provision for installing lightning rods through State Disaster Response Fund as per Central government's criteria."
---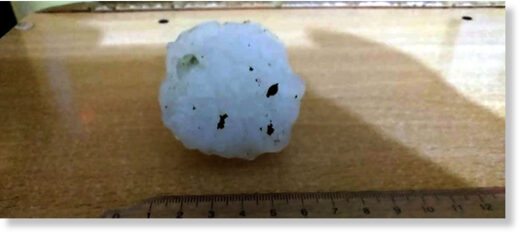 A strong storm of rain and hail hit the cities of Paraná and Concepción del Uruguay at dawn this Monday. In the provincial capital, the stones were registered in the southern area and the residents of the place evidenced their size with photos and videos. Meanwhile, the National Meteorological Service foresees for the day of this Monday, September 13, rains and storms in a large part of the province.
In Concepción del Uruguay, the hailstorm occurred around 6 in the morning and residents of the area shared photos the size of stones on social networks, which they bought with "chicken eggs." Likewise, they published videos in which you can hear the sound of knocks on the roofs of the houses in different parts of La Histórica.
---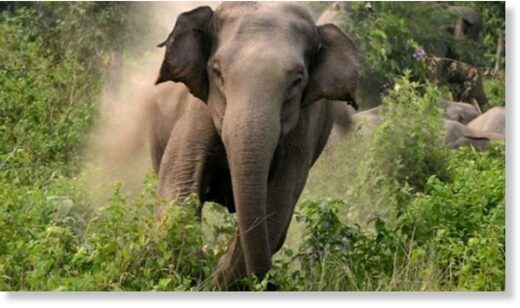 Two persons were killed by a wild elephant in separate incidents in Chhattisgarh''s Mahasamund district, taking the toll to six in such attacks in the state over the last one week, officials said on Monday.
The latest attacks took place late Sunday evening in two villages under Mahasamund forest circle within a span of a couple of hours, they said.
In the first incident, an elderly man, identified Raju Vishwakarma, a native of Mahasamund town, located over 50 km from the state capital Raipur, was killed by a tusker near Gaurkheda village when he was travelling along with two others on a motorcycle, Divisional Forest Officer (Mahasamund) Pankaj Rajput said.
After suddenly coming face-to-face with the elephant on the road, the man driving the two-wheeler lost control over it, following which Vishwakarma, who was riding pillion, fell from the vehicle.
---
Richard Davies
Floodlist
Tue, 14 Sep 2021 09:47 UTC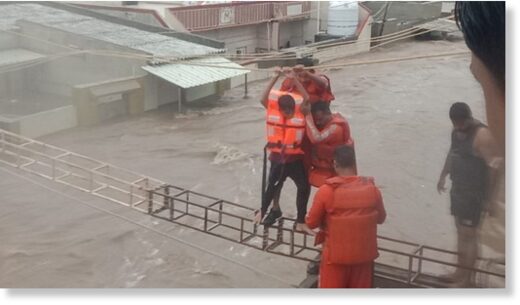 Severe flooding in the state of Gujarat on the western coast of India has affected over 1.6 million people
according to disaster authorities in the country. Some areas of the state recorded more than 500 mm of rain in 24 hours.
The Disaster Management Division of the country's Home Affairs Ministry reported on 13 September that flooding over the last few days has affected 1,660,254 people across 44 villages in the districts of Rajkot, Jamnagar, Porbandar, Valsad and Junagadh.
Evacuations have been carried out and 72 evacuation centres set up to house almost 7,000 displaced residents. As of 13 September, 2,553 people were displaced in Rajkot district, 3,966 in Jamnagar district, 224 in Porbandar district and 5 in Junagadh district.
Flooding has destroyed at least 5 houses and damaged 28 more.
Two fatalities were also reported, including one person who drowned in flood water and another who died after a wall collapsed.
---
Richard Davies
Floodlist
Tue, 14 Sep 2021 09:31 UTC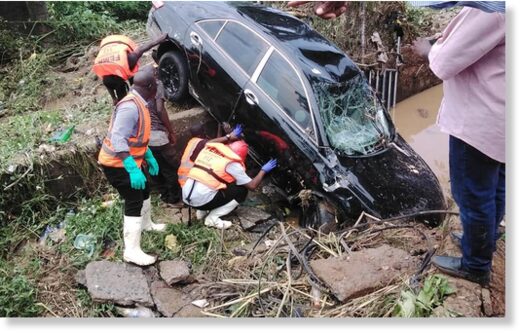 At least 4 people lost their lives after flash floods swept through areas of Abuja and the Federal Capital Territory (FCT) of Nigeria.
Flooding struck after hours of heavy rain on 12 September 2021. Severe flooding affected areas on the southern outskirts of the city, in particular Trademoore, Light Gold, Wisdom and Lugbe.
FCT Emergency Management Agency (FEMA) confirmed that 4 people lost their lives and 26 vehicles were swept away, damaged or destroyed. A total of 166 houses were damaged.
As of 13 September the Agency was still assessing the full extent of the damage.
---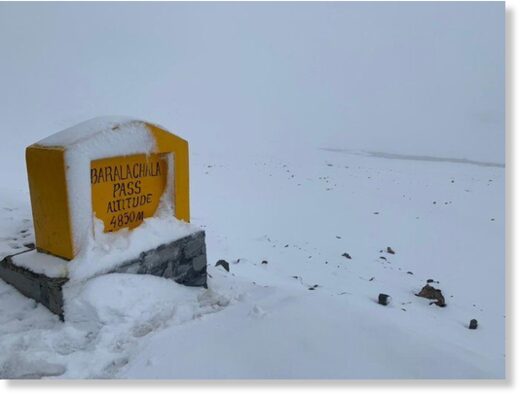 The Manali-Leh highway was on Monday closed for normal traffic after fresh snow at Baralacha pass in Lahaul and Spiti district.
Lahaul-Spiti SP Manav Verma said that according to the information received from Border Roads Organisation, there was fresh snow at Baralacha pass. As a result, traffic movement has come to a standstill on the highway.

The HRTC authorities at Keylong have suspended their bus service between Delhi and Leh since Sunday.
The SP said people were advised to avoid journey towards Leh until the situation improved.
Due to fresh snow at Baralacha pass the Manali-Leh route has been closed for traffic till further orders.
"Further updates will be given when the road is cleared by the BRO and traffic resumes over Baralacha Pass," he added.
---
Yle
Mon, 13 Sep 2021 18:14 UTC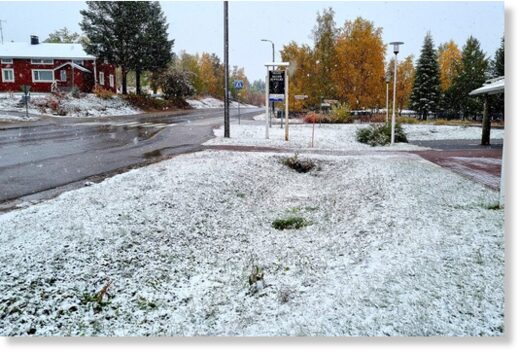 The first ice crystals of the season fell in Finnish Lapland on Monday.
Two centimetres of the white stuff covered the village of Näkkälä in Enontekiö, northwest Lapland, on 13 September around 10am.
However, because the flurries weren't recorded before 9am, Yle meteorologist Seija Paasonen said Monday's sprinkling does not officially qualify as the first snow of the winter season.
---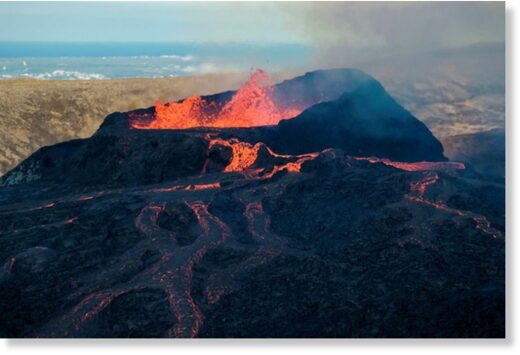 After taking an apparent break for eight and a half days, the main crater by Fagradalsfjall, Southwest Iceland, once again began spewing fire into the air on Saturday,
mbl.is reports
.
Scientists visited the site that day and made some interesting discoveries, according to the Facebook page the Volcanology and Natural Disaster Team of the University of Iceland, where they posted the accompanying videos. The team points out that there is every indication the eruption did not stop during this pause in surface activity. Clearly, the opening of the main vent clogged up, preventing magma from flowing into it.
---