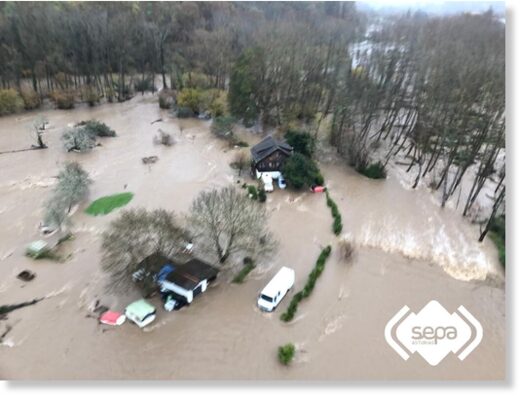 Heavy rain fall of over 150 mm in 24 hours caused severe flooding in parts of northern Spain, prompting evacuations and dramatic rescues by helicopter.
Emergency Services in Asturias used a helicopter to rescue a family trapped in a home surrounded by flood water in Piloña on 24 November 2021. Emergency teams in boats rescued 1 person in Las Rozas and another in La Noceda, Arriondas.
Furthermore around 40 patients were evacuated from a hospital in Arriondas in Parres municipality due to the flooding. As a precaution, around 600 students and teachers from 2 schools in Arriondas were also evacuated.
Arriondas is located where the Piloña and Sella rivers converge. Both rivers were swollen after the heavy rain.
According to figures from Spain's State Meteorological Agency AEMET, in around a 24 hour period on 24 November, the village of Piloña recorded 87.2 mm of rain; Panizales 159.6 mm; Carreña 139.0 mm and Felechosa 94.4 mm.