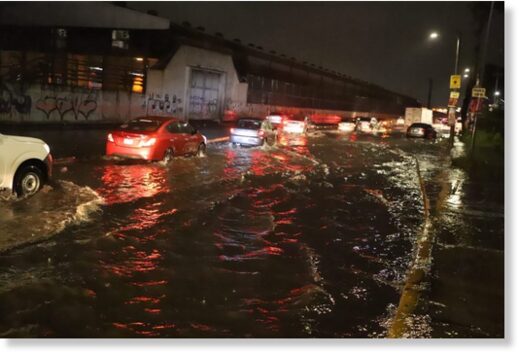 Two people have died and dozens of vehicles swept away after violent flash floods in the municipality of Ecatepec in Mexico.
Ecatepec municipality, officially Ecatepec de Morelos, is situated in the State of Mexico, around 20 km north of Mexico City.
Heavy rain fell during the afternoon of 06 September, triggering the flash floods in Ecatepec and parts of neighbouring Nezahualcóyotl. Authorities said 24 mm of rain fell in 90 minutes, mainly in the central area of ​​San Cristóbal and in the communities of the Sierra de Guadalupe.
Images shared on Social Media showed mud and flood water flowing through streets, dragging along vehicles and debris in Ecatepec.
Many of the main roads in the area were blocked, causing chaos for drivers. Local authorities deployed trucks and buses to assist people stranded by the floods.