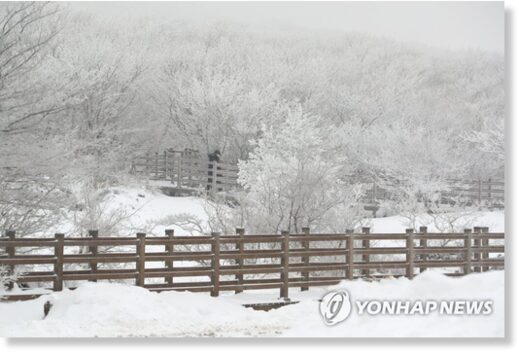 The Korea Meteorological Administration (KMA) issued cold wave and heavy snow alerts for most parts of the country Wednesday as the entire nation came under the grip of the season's coldest weather.
A cold wave warning went into effect for the whole of Seoul at 9 p.m. for the first time since Jan. 23, 2018.
Mountainous areas of the southern island of Jeju also came under a cold wave warning for the first time since the nation introduced such alert systems in 1964.
A cold wave warning is issued when the morning low is
below
minus 15 C for more than two consecutive days
, or when the temperature drops sharply and major damage is expected.
The warning was already issued for many areas in Gyeonggi, Gangwon, Chungcheong and North Gyeongsang provinces at 9 p.m. Tuesday, followed by other areas Wednesday, including Incheon, west of Seoul.