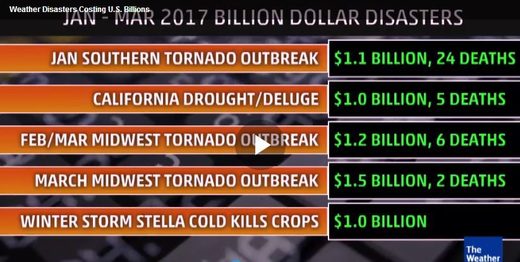 The U.S. has endured a destructive start to 2017 from the multiple severe weather outbreaks since January.
There have been 5,372 preliminary reports of severe weather
across the United States in 2017 through April 8
, according to NOAA's Storm Prediction Center (SPC). That figure includes reports of tornadoes, large hail and wind damage.
This is more than than double the average of 2,274 for the same period of time during the past 10 years (2007-2016).
In that decade, only 2008 had about the same number of severe weather reports by this point in the year with
5,242
.
The animation below shows how the occurrences of wind damage, large hail and tornadoes have piled up month-by-month this year. Portions of the South have been hit the hardest, but the Midwest has also seen a high concentration of severe weather reports.