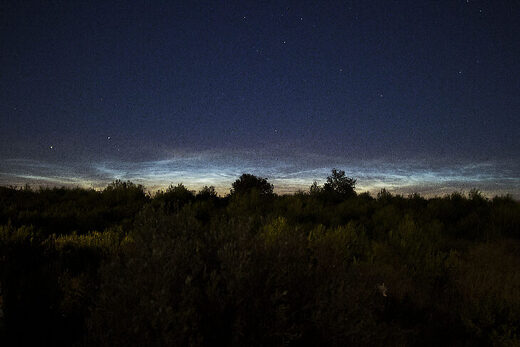 A week ago,
noctilucent clouds
(NLCs) were stuck inside the Arctic Circle. Suddenly, they have broken free.
Over the weekend, people saw the clouds through the city lights of Paris, Madrid, Berlin and other European capitals.
On June 20th, Francisco Gil photographed NLCs as far south as Valencia, Spain.
"It is pretty strange to observe noctilucent clouds from these latitudes," says Gil.
Indeed it is.
Valencia is at +39N, a latitude where NLCs are almost never seen.
For most of their history (NLCs were discovered in the 19th century), the clouds have been found mainly near the Arctic Circle. Now they are spreading. The record low latitude, to date, was set in June 2019 when the clouds appeared near Los Angeles (+34 N). Gil's sighting shows that they are in the 30s again.
This just in: Cameras at the Calar Alto Observatory in Spain recorded the clouds at an even lower altitude (+37.5N):