Fertilizer runoff and fossil-fuel use lead to massive areas in the ocean with scant or no oxygen, killing large swaths of sea life and causing hundreds of millions of dollars in damage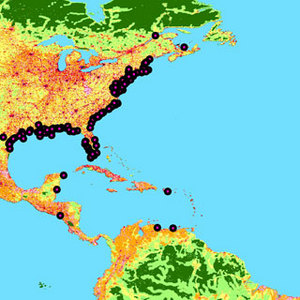 ©Science/AAAS
Dead Zone: Waters with little or no oxygen continue to form in coastal areas worldwide thanks to fertilizer washing off agricultural fields and fossil fuel burning.
More bad news for the world's oceans: Dead zones - areas of bottom waters too oxygen depleted to support most ocean life - are spreading, dotting nearly the entire east and south coasts of the U.S. as well as several west coast river outlets.
According to a new study in
Science
, the rest of the world fares no better - there are now 405 identified dead zones worldwide, up from 49 in the 1960s - and the world's largest dead zone remains the Baltic Sea, whose bottom waters now lack oxygen year-round.