Residents in areas only now recovering from hurricane Katrina have been soaked by more than 20 centimetres of rain, flooding streets, forcing the closure of schools and leaving businesses sitting in waist-high water.
The city's drainage pumps were working properly Monday but were unable to keep up with the intense rain, emergency preparedness officials said. They urged motorists to stay off roads.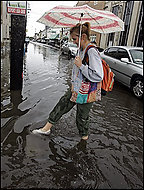 ©AP Photo/Alex Brandon
Lauren Robinson from New Orleans walks through the water in the uptown area of New Orleans on her way to study in a coffeehouse Monday, Oct. 22, 2007.