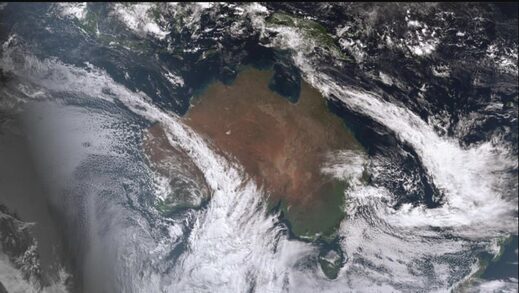 A rare weather phenomenon has occurred above Australia, with two almost symmetrical cloud "rivers" forming at opposite ends of the country.
An "atmospheric river" is caused when a stream of very moist air moves in from the tropics and causes very heavy rain.
The
Bureau of Meteorology
calls these streams "atmospheric rivers".
They are cloud bands that can stretch for thousands of kilometres, carrying large quantities of water.
"It occurs when any strong weather system is able to tap into moisture in tropical locations," a BOM spokesperson told nine.com.au.
"This one has tapped into moisture around Papua New Guinea and brought rain from there.
"The two that are forming above Australia's north-east and south-west coasts are responsible for the heavy rainfall experienced in NSW, Victoria, South Australia and WA in recent days.
While an atmospheric river is not uncommon, having two form in such close proximity to each other is rare.