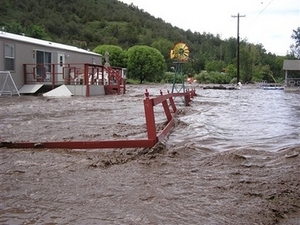 ©Ruidoso News
Flood waters destroying yards and fences of homes at River Ranch RV Park, along Highway 70 between Glencoe and Ruidoso Downs, N.M.
Ruidoso - About 300 people were evacuated from homes, campgrounds and a recreational vehicle park Sunday after flooding caused by the remnants of Hurricane Dolly. Two people were reported missing in the water.
Meteorologists said more than 6 inches of rain fell in the mountainous area, and flash flood watches were in effect for central and eastern New Mexico.
The Rio Ruidoso went over its banks about midnight, said Tom Schafer, Ruidoso's emergency management coordinator.
"Water's just going everywhere," Schafer said.
Ruidoso police took reports of the two being swept away in separate incidents after apparently losing their footing near the river, said Ruidoso's emergency management coordinator, Tom Schafer. He didn't have additional details.
State officials estimated more than 60 homes have been damaged.