Los Cabos - Tropical Storm Julio drenched Mexico's Baja California on Sunday and hundreds of residents fled poor neighborhoods that were in danger of flooding near the popular tourist resort of Los Cabos.
The storm was earlier reported to be carrying winds of 50 mph (80 kph) over the eastern Pacific Ocean before it hit the southern tip of the Baja California peninsula on Sunday afternoon.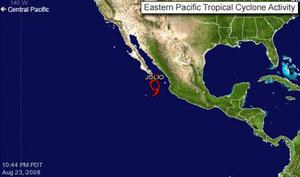 ©REUTERS/NOAA/National Hurricane Center/Handout
A graphic showing the location of Tropical Storm Julio at 10:44 PM, August 23, 2008.
"Right now we have five emergency shelters activated and we have the potential to open 14 if necessary," local emergency official Juan Carlos Guevara told Reuters.
"Hotels are open and guests are being cared for by the hotel's own security," he said. Some tourists walked along the beaches to watch 8-foot-high (2.4-m-high) waves pound the shore. Others hunkered down in their rooms to wait out the storm.
The port at Los Cabos, popular with cruise ships, was closed, but all the country's major oil exporting ports remained open, Mexico's Transport Ministry said in a statement.