Peru's Natural Resources Institute (INRENA) has reported that since the earthquake which struck Peru's southern coast and devastated most of the Ica Region, 60 percent of the sea lion population, which lived on Paracas Bay, has disappeared.
Representative for INRENA Protected Areas, Luis Alfaro, told Peru's Andina News Agency, "We can only see 50 sea lions where there used to be 150."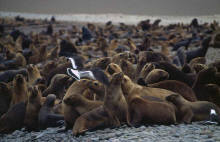 ©LivinginPeru.com
Paracas National Reserve sea lions.