Earth Changes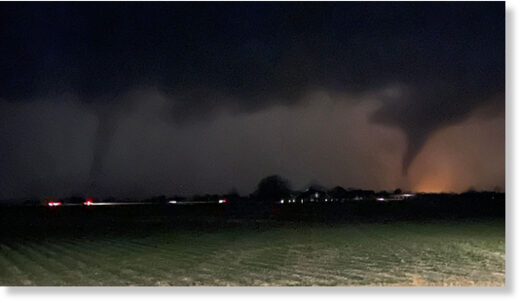 Fox News' Ashley Strohmier provides the latest update after deadly tornadoes rip through Missouri, Arkansas, Tennessee, Kentucky and Illinois.
Comment:
The picture isn't clear yet, but it looks like this could be the largest, most intense, 'super-outbreak' of tornadoes in US history. More information is coming in about the devastation along the storm track. Fox News
reports
:
Major incidents included heavy damage to an Amazon warehouse in Edwardsville, Illinois, where two people are confirmed dead and dozens of workers were reportedly trapped inside the building, and the destruction of a nursing home in Arkansas, where at least two people were killed and five were hurt, according to reports.

Illinois

The Amazon collapse - just across the Mississippi River from St. Louis - was being called a "mass casualty incident" by local emergency responders. At least 30 people were bused away from the scene to be reunited with family, officials said.

As many as 50 to 100 employees were believed to be inside the building, FOX 2 of St. Louis reported.

Police received word of the collapse around 8:30 p.m., police told FOX 2 early Saturday. Officials said the emergency response was expected to continue far into Saturday morning.


Missouri

In St. Charles County, Missouri, to the west of St. Louis, at least one person was killed and three injured when a tornado struck in the town of Defiance, according to FOX 2.

Arkansas

In Craighead County, Arkanas, emergency responders were dealing with a tragedy at the Monette Manor Nursing Home in Monette, FOX 16 of Little Rock reported.

At least 20 people were initially trapped inside the building after a suspected tornado struck, the report said. The damage left at least two people dead and five hurt, the report said.


The nursing home's roof was ripped off and other buildings in town also were damaged, according to FOX 16.

Survivors were being directed to a local church to reunite with loved ones, the station reported.

Another fatality was reported at a Dollar General store in Leachville, according to The Weather Channel.

Kentucky

Kentucky Gov. Andy Beshear warned the commonwealth's residents Saturday that the tornado death toll there will exceed 70 after a candle factory in Mayfield with around 110 people inside was flattened.

He said a single tornado ripped across the state for more than 200 miles.

Earlier, the governor declared a state of emergency after major tornado damage was reported in the western part of the state.

Beshear called it the "most devastating tornado event in our state's history."

"It is indescribable," he continued. "The level of devastation is unlike anything I have ever seen."

"Loss of life is expected," in western Kentucky, the Kentucky State Police wrote on Twitter.

Southwest Kentucky saw "twin tornadoes" strike around 2:20 a.m. near Bowling Green, WDRB reported.

"People that weren't even official first responders been up all night trying to help their friends and neighbors and family," Rep. James Comer, R-Ky., told "Fox & Friends Weekend." "Just a devastating thing to go through the community and just something that you hope you never have to witness."

In Madisonville, Kentucky, a freight-train derailment was reported shortly after midnight, related to severe weather. No injuries were immediately reported, a spokeswoman for rail company CSX Corp. told Fox News.

Tennessee

At least two people were confirmed dead in Obion County, Tennessee, after dangerous storms tore through the area, FOX 17 of Nashville reported. No details were immediately available on how the deaths occurred.
Social media offered live updates from the affected areas as well as issuing warnings to those further up the storm track:
The fallout:
THE largest and deadliest tornado outbreak in the US occurred 10 years ago
in April 2011
. Yesterday's outbreak saw only about a tenth of that in terms of the number of tornadoes, but it may top it in terms of fatalities, and the intensity of particular tornadoes, like the one that appears to be the first ever to track through 4 states...
---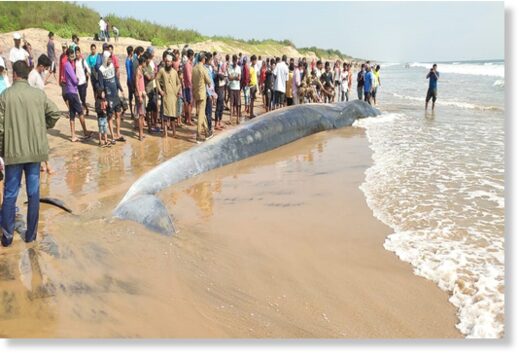 A 45-feet-long critically endangered whale has washed ashore on Fatehpur beach coming under Chilika Wildlife Division in Odisha's Puri district.
This is the fifth whale species, which inhabited the Odisha coast, found dead in 13 months.
Last time, the carcass of a 20-feet-long whale shark washed ashore on 4 October on Ramatara beach under the Kujang forest range near the Bhitarkanika forest division in the Jagatsinghpur district, said, forest officials.
The gargantuan mammal that weighed around 10 tons was spotted lying motionless on the sea coast.
---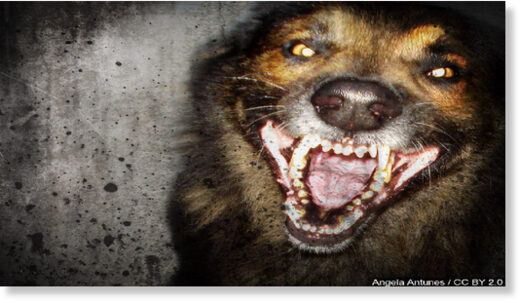 Deputies with the Sumter County Sheriff's Office says they are investigating after a 60-year-old woman died of an apparent dog attack. Officials say the incident occurred inside a home in the Cherryvale area on Thursday.
Deputies say the victim, Lori Martin, was visiting family when she was attacked by her family member's dogs who were fighting each other. According to officials, Martin was found unresponsive by a family member shortly after the apparent attack. Authorities say both she and the dogs had lacerations consistent with dog bites and scratches.
An autopsy is scheduled for Wednesday at the Medical University of South Carolina in Charleston.
---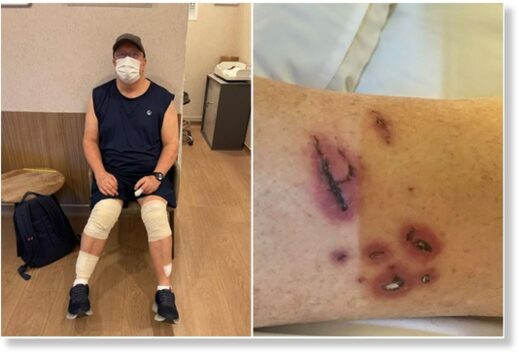 That otter hurt.
A Singapore resident was hospitalized after a bizarre animal attack last month in which he was accosted by a gang of otters, who reportedly bit him 26 times.
"I actually thought I was going to die - they were going to kill me," British native Graham George Spencer told the
Straits Times
of the otterly frightening encounter, which occurred Nov. 30 while he was strolling to the Singapore Botanic Gardens with a friend.
Spencer, who is in his 60s, was reportedly approaching the visitors center when he spotted around 20 otters crossing a dimly-lit path in front of him. He claimed it was the first time he had seen the mustelids in the area despite taking his morning walks there for five months. The animal encounter went south after a jogger ran through the pack, causing the fish-eaters to go "crazy like dogs" and try to bite the passerby, the shocked senior told Singapore's Today online newspaper.
---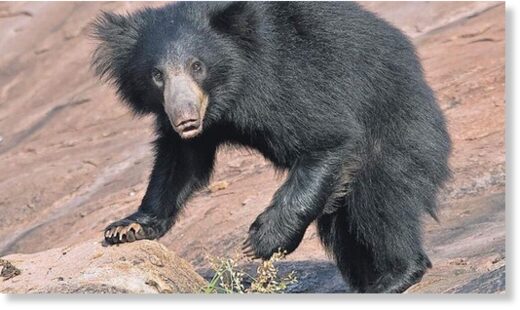 A 42-year-old tribal woman from Amlipanichhotra village in Devgarh Baria taluka of Dahod district died in a sloth bear attack under the Saagtala range of the biodiversity zone of the forest department on Friday, forest department officials said.
The victim, Sanjli Mashru Rathwa, had taken her cattle to graze when she was attacked by the bear, the officials said. The forest department recovered Rathwa's body late on Friday night.
RM Parmar, Deputy Conservator of Forests (Devgarh Baria), said the incident was the first fatal conflict involving a sloth bear in the Saagtala range this year. Parmar said, "We received a call on Friday evening that a woman from a nearby village was attacked by a sloth bear when she went into the forest. Our teams went in search of the victim and found her body in a remote location within the forest. The body has been sent for post mortem."
---

Ski areas in the Alps are reporting exceptional early-December snowfalls
and some of the best early-season conditions in years.
Centres across the region have been reporting up to a metre of snowfall in the past seven days, which in many cases comes after heavy snowfall the previous week too.
Val Thorens is pictured top.
Other parts of Europe, particularly the Pyrenees, but also Eastern Europe, have been posting snowy images as well
. Kopaonik in Serbia is pictured below.
---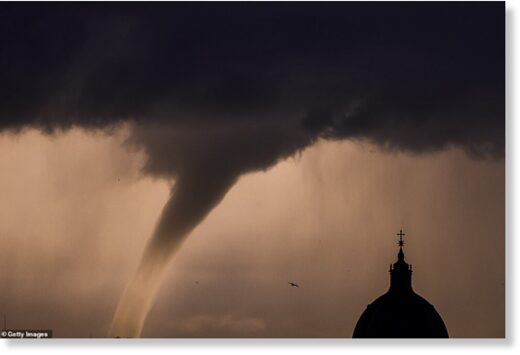 A massive waterspout has been caught on camera as it spun off the coast of Italy late on Thursday.
The unusual weather phenomenon, which resembles a tornado, cut a swathe through the Tyrrhenian Sea, near the Roman town of Fiumicino, in Ostia.
One image shows the whirling vortex with a boat visible in the far distance.
Waterspouts develop over masses of water, scooping up vapour and dragging it towards the sky.
The slender 'tornados' are occasionally found in the late summer and autumn and can be dangerous for boaters and shoreline locations but are no threat farther inland since they collapse soon after they move onshore.
---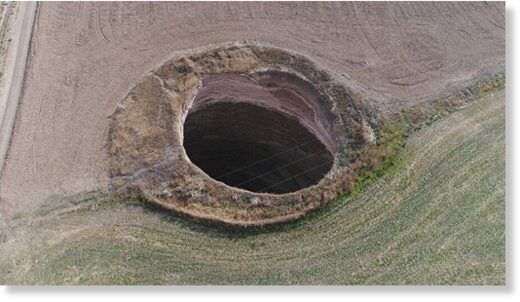 The outlook is grim for Konya Plain, a massive stretch of land in the eponymous province viewed as Turkey's breadbasket.
The number of sinkholes, which was only 600 in January 2021, has now reached 2,000,
experts say, amid concerns over more formations.
Sinkholes, a result of diminishing groundwater levels, is now closer to residential areas and agricultural fields, professor Fetullah Arık, an expert who heads a sinkhole research center at Konya Technical University, says.
Most emerge overnight and no casualties or damage have been reported so far, but Arık warns the risk is becoming higher. The center he leads cooperates with the Disaster and Emergency Management Presidency (AFAD) for measures against sinkholes, which vary in size but are large enough to pose a risk.
---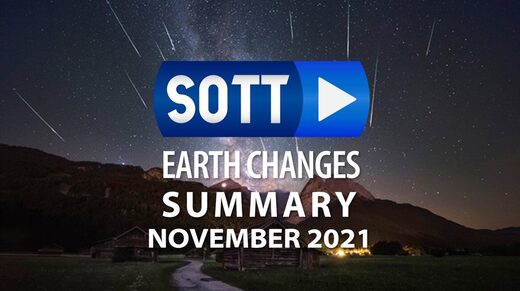 This past month of November, it seems it was all about fire in the sky and ice on the ground. A record number of meteor fireball sightings around the world were registered last month,
well surpassing the numbers of recent years.
The Taurids and Leonids contributed to the show, but those seasonal meteor showers alone couldn't have caused all the events this month. Something wicked this way comes?
Early heavy snowfalls and record cold temperatures hit many countries around the world this month, but the US, China, and parts of Europe were the most affected.
The US Midwest and Northeast were hit by a rare November blizzard that brought 30-40mph winds, record snow, and icy temperatures. These early cold temperatures raise concerns for a harsh winter.
Much of northern China, including the capital Beijing, was hit by freezing, 10-year record low temperatures, and early snowfall, sparking highway closures and flight and train cancellations.
In the capital city of Shenyang, in Liaoning province, average snowfall reached 20 inches (51cm),
the highest recorded snowfall since 1905.
After months of heavy rain and floods that damaged basic infrastructure and crops,
Chinese people fear that a harsh winter might worsen food production and distribution, and make it difficult to keep homes warm in the areas hit by power outages earlier this year.
Extreme weather has pummeled at least half of Australia this month with severe thunderstorms, strong winds, heavy rain, flooding, and rare snowfall. Queensland, New South Wales, and Dubbo recorded 1.6 inches (40.2mm) of rain in 30 minutes. Crops and farmland were damaged, and many roads were closed.
Things are really heating up in Australia, could all this extreme weather be connected to the suffering caused by their government's totalitarian "Covid measures"?
Heavy rains and floods continued to wreak havoc in South and Southeast Asia. Cyclone Nakri dumped 34 inches of rain in just 4 days causing serious flooding, and power outages in the central provinces of Vietnam. 60,000 homes were destroyed, and at least 18 were reported dead.
Snowfalls, heavy rains, and strong winds hit parts of Italy and Spain, one person was reported dead and several people were rescued from flooded homes.
Two powerful earthquakes, magnitude 6.4 and 6.3 respectively, hit southern Iran leaving one person dead, while a 7.5 magnitude earthquake shook the remote Amazon region of northern Peru, destroying 75 homes.
Please pay attention, and prepare accordingly!
---
RT
Sat, 04 Dec 2021 13:53 UTC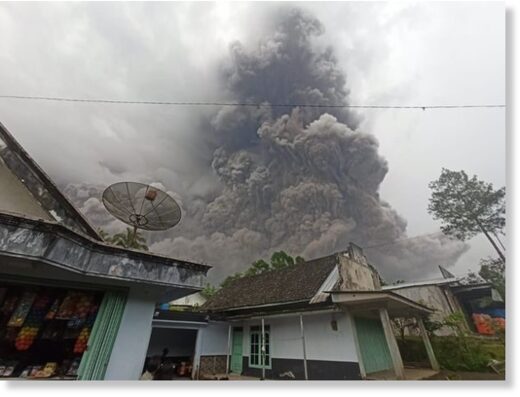 A volcano erupted on the Indonesian island of Java on Saturday, reportedly obscuring the sun with a massive cloud of ash, and sending locals into a panic.
A clip on social media has captured people, who live at the foot of Semeru volcano, fleeing in fear ahead of a cloud of black ash descending from the 3,676-meter-tall mountain.
The author of the footage is heard shouting "Allahu Akbar" (God is great) in face of this truly apocalyptic sight.
Comment:
Update
: TASS
reported
on December 6:
At least 22 people died and 20 more are reported missing after Mount Semeru, a volcano on Indonesia's Java island, erupted, a spokesman for the local emergencies agencies told the DetikNews portal on Monday.

"Rescuers found more dead bodies, so, the overall death toll has reached 22," he said, adding that five bodies have not yet been identified.


The local authorities said earlier that at least 27 local residents were reported missing after the volcano spewed ash on December 4. More than 50 people were injured.

Semeru, the highest mount on Java, is one of Indonesia's nearly 130 active volcanoes.


Update 2
: Devdiscourse.com
reported
on December 8:
Death toll from Indonesia's Semeru volcano eruption rises to 39



The death toll from the eruption of Semeru volcano in Indonesia's island of Java has risen to 39 and 105 others were injured, the Lumajang District Disaster Management Agency said on Wednesday. "A total of 23 people were seriously injured, and 82 others slightly wounded," the agency's head of the rehabilitation and reconstruction division Joko Sambang said, adding that the injured are receiving medical treatment in nearby health facilities.

In addition, thousands of houses were damaged by the volcanic ash and many people have been evacuated to safer places.Sambang said that the evacuation process was very difficult due to the hot volcanic ash. Semeru volcano erupted on Saturday at 3:20 p.m. local time with the worst hit areas in Pronojiwo sub-district. (ANI/Xinhua)
---