A major earthquake hit northern Chile on Wednesday, and local television showed cars crushed under a section of collapsed building and terrified, confused residents in the streets.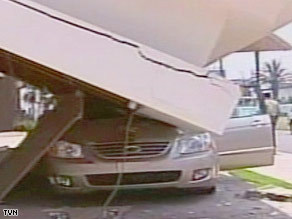 ©TVN Chile
A car lies crushed under part of a building Wednesday in Antofagasta.
Ricardo Lagos Weber, minister of government affairs, who spoke from Santiago an hour after the quake hit, said there were no immediate reports of injuries. But he said information from isolated areas in the far north had yet to come in.