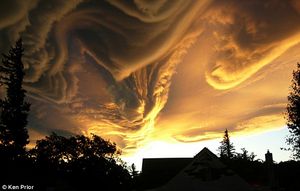 Whipped into fantastical shapes, these clouds hang over the darkening landscape like the harbingers of a mighty storm.
But despite their stunning and frequent appearances, the formations have yet to be officially recognised with a name.
They have been seen all over Britain in different forms - from Snowdonia to the Scottish Highlands -and in other parts of the world such as New Zealand, but usually break up without producing a storm.