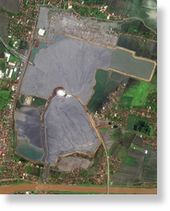 Indonesia's devastating 'mud volcano' could keep spewing for the next 30 years, filling the equivalent of 50 Olympic-size swimming pools every day, a top Australian expert warned.
Curtin University of Technology's doctor Mark Tingay, who has just returned from the disaster site in East Java, said about 100,000 people remained under threat from subsidence three years after the volcano first erupted.
"In effect, the whole region around the vent hole is sinking by about two to five centimetres each day due to the rising mud level, causing more damage to suburban villages and triggering frequent bursts of flammable gas around homes," he said, according to a Geological Society of Australia statement.