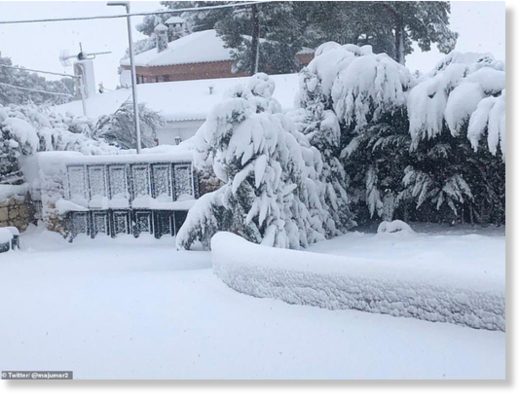 Spain's Costa Blanca and Valencian coastline have been pummelled by a vicious storm this morning, shutting Alicante airport, flooding homes and blanketing areas with at least a foot of snow.
Flights to London, Newcastle, Bristol, Edinburgh and other major cities were cancelled as the airport shut for the day, forcing holidaymakers to either travel to a different airport or sit tight until the dangerous weather moved on.
Towering waves have been pictured slamming into the coastline while, in Denia, seawater was filmed gushing through the streets of the city.
Snow drifts have also built up inland as a seven-hour shower in Villena, Valencia, left the city's 35,000 inhabitants cut off after up to three inch piles of the white stuff blocked roads.
A red alert was issued for Storm Gloria yesterday, before it smashed into the region, warning it would bring heavy rain, snow, up to 75mph winds and waves that could reach eight feet in height.
It is expected to move towards the north-west of Spain tomorrow, with the bad weather unlikely to subside before Wednesday, the Spanish State Meteorological Agency (AEMET) said.
A 54-year-old Romanian woman died from hypothermia in Gandia, Valencia, following the vicious weather, local media reports. A 44-year-old man also died yesterday when he was run over by a van that lost control in snow-covered Santander, Asturias.