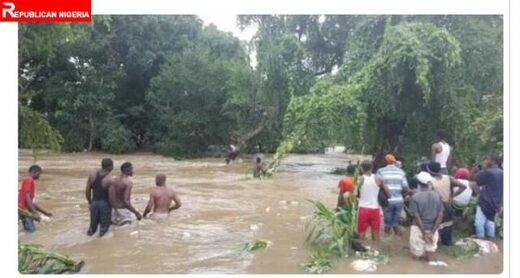 No fewer than 19 persons have been feared dead in Doguwa local government area of Kano State after a vehicle conveying them was washed away by floodwaters at the weekend.
The incident followed a torrential downpour in the city that lasted several hours, destroying properties estimated at over N100 million.
"Human beings and domesticated animals, including birds, as well as foodstuff were destroyed, as several homes were submerged in the flood," Saidu, a resident, said.
Village Head of Doguwa settlement, Alhaji Yusuf Umar, confirmed the incident to newsmen, saying 15 bodies have been recovered while search has been intensified to recover the bodies of the remaining four victims.
Umar narrated that the vehicle conveying the dead was washed away by the flood after its engine went off in the middle of a bridge on Friday night.