Dozens of motorists who were trapped in blizzards in County Durham have been rescued.
Many are likely to spend the night in temporary accommodation.
At one point 150 cars carrying around 200 motorists were stranded in drifting snow along the A66 near the village of Bowes.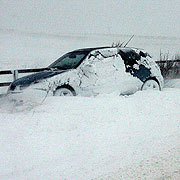 ©Unknown
A trapped car in County Durham
Heavy snow hit the north of the country on Friday afternoon, catching many motorists out.
Bob Baldwin of the Highways Agency, told Sky News up to half a metre of drifting snow had accumulated on parts of the road in a very short amount of time.