Earth Changes
Gina Covina
Alternet
Tue, 16 Oct 2007 18:59 UTC
---
Storms in South Africa are going to become more severe, an analyst at the South African Weather Service has warned. And while residents in Mamelodi, Soweto, were mopping up water and clearing up the damage to their houses this week, weather man Mnikeli Ndabambi warned that people in low-lying areas could expect more flooding.
---
Scientists are headed tomorrow to an area 75 kilometres west of Quesnel to install seismological equipment aimed at determining whether a "swarm" of small earthquakes are evidence of a forthcoming burst of molten lava -- potentially the first volcanic activity in the province in two centuries.
---
Indonesia raised on Tuesday the alert level for Mount Kelud volcano to the highest level, as residents started fleeing amid signs an eruption could be imminent, officials and a witness said.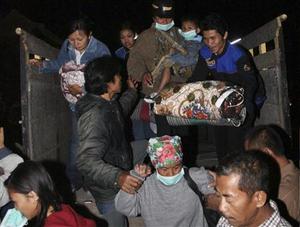 ©REUTERS/Dimas Aro
Villagers living near the Mount Kelud volcano arrive at a temporary shelter in Wates village, October 16, 2007, after fleeing from their homes.
---
AFP
Tue, 16 Oct 2007 11:07 UTC
Seven people died and an eighth was missing after monsoon storms swept through southern Bangladesh, demolishing shanty homes and leaving many injured, officials said.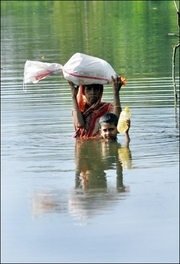 ©Adi Shah/AFP
Bangladeshi flood victims. Seven people died and an eighth was missing after monsoon storms swept through southern Bangladesh.
---
No damage or injuries are being reported after a magnitude 4.2 earthquake hit San Bernardino County, northwest of Los Angeles, early today.
The U-S Geological Survey says the quake occurred just before 2 a-m local time and was centred about five kilometres north of Wrightwood, a remote community about 130 kilometres from L-A.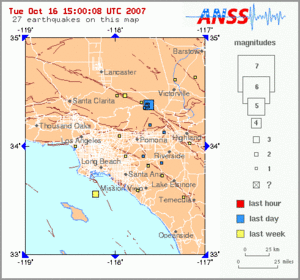 ©USGS
---
Hundreds of thousands of earthworms appeared in a Taiwan vineyard, prompting the owner to consult an expert out of fear that a strong earthquake might be coming soon, a newspaper said on Monday.

According to the China Times, the worms crawled out of the earth and covered the surface of Wu Ching-chuan's vineyard in Changhwa County, west Taiwan, Sunday morning.

Wu, who bought the vineyard 40 years ago, said he has never seen so many earthworms in his vineyard before and estimated there were 200 to 300 kilograms of them.
---
Andrea Thompson, LiveScience Staff Writer
Live Science
Mon, 15 Oct 2007 21:47 UTC
On a recent crisp autumn afternoon in Iowa, video cameras captured an unusual and visually dramatic result of two air masses colliding. Clouds split into a series of stripes and swept across the sky.
These so-called undular bores are created by atmospheric conditions that destabilize the air in a particular way.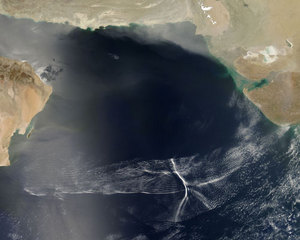 ©NOAA
An undular bore caught by satellite over the Arabian Sea on May 8th, 2007.
In the case of Des Moines, Iowa, they formed on Oct. 3 when a group of thunderstorms approached the city.
"At the time, a layer of cold, stable air was sitting on top of Des Moines," said atmospheric scientist Time Coleman of the National Space Science and Technology Center in Alabama. "The approaching storms disturbed the air, creating a ripple akin to what we see when we toss a stone into a pond."
---
Aaron Sheldrick and Bryan Lysaght
Bloomberg
Mon, 15 Oct 2007 22:28 UTC
New Zealand's South Island was hit by two earthquakes of magnitude 6 or greater, the U.S. Geological Survey said on its Web site. There were no immediate reports of casualties or damage.

A magnitude-6 quake struck 95 kilometers (59 miles) west- northwest of Queenstown at 10:28 a.m. local time today at a depth of 39 kilometers, the USGS said. Another quake, of magnitude 6.8, struck about nine hours earlier, 103 kilometers west-northwest of Queenstown. That quake was 25 kilometers deep.
---
Flooding from days of heavy rain left 14 people dead in a mudslide in Costa Rica and sowed chaos in neighboring Panama, displacing scores of people, rescuers said Saturday.

The avalanche struck poor homes in Atenas, west of the Costa Rican capital on Thursday in a torrential downpour, the Red Cross said. Rescuers later found 14 bodies as they picked through the mud, timber and rubble. The mudslide engulfed a complex housing the families of poor farm workers. It was the worst weather disaster in the Central American country for years.
---