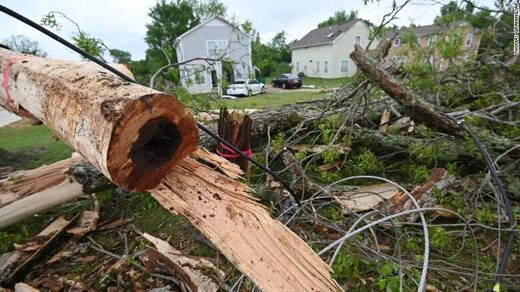 After a calm night, Tuesday is expected to bring severe weather to the
Southeast US, which has already been pummeled
by deadly tornadoes.
A storm system moved out of Oklahoma and Texas -- where more than 36,000 people were without power early Tuesday morning, according to
PowerOutages.us
-- and into the Lower Ohio Valley and Tennessee area. The evening brought diminished downpours and wind gusts, but daybreak threatens to bring severe weather again.
Large hail, damaging wind gusts and tornadoes are forecast to impact the areas from the Ohio River Valley down to the Gulf Coast.
As the day progresses, the heat and humidity that accompanies the month of May in the Deep South will help to reinvigorate the atmosphere and areas along the Gulf Coast from East Texas to the Florida Panhandle could see strong to severe storms pop up until the arrival of the severe gusts that come with the advancing front.
Areas from Central Louisiana, Alabama, Georgia, and Mississippi are more likely to see impacts from hail and damaging straight-line winds rather than tornadoes. But tornadoes are still possible.
These can be just as damaging to a region already reeling from storms hitting the state over the past few days.