Earth Changes
EXTREME FLOODING
YouTube
Sat, 29 May 2021 17:34 UTC
---
EXTREME FLOODING
YouTube
Fri, 28 May 2021 17:19 UTC
---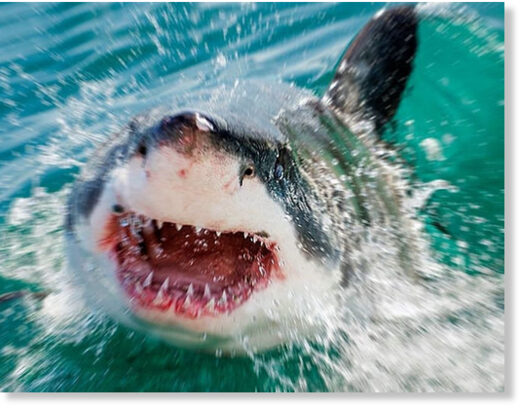 Rescue services in New Caledonia were Thursday searching for the body of a fisherman believed to have been killed by a shark
, following a spate of fatal attacks in the South Pacific territory this year.
The alarm was raised on Wednesday after fishermen told emergency services they had seen a shark attack a fisherman diving off a beach on the Nouville peninsula northwest of the capital Noumea.
"Our boat is still there but nothing has been found and no one has yet gone to the police or the gendarmerie to report a disappearance," Alexandre Rossignol, head of communications for civil defence, told AFP.
Witnesses recounted the attack to the newspaper
Les Nouvelles-Caledoniennes.
"It was very fast. We saw eddies on the surface, it was a shark that was attacking," one witness said. "We saw the fins flapping above the water and then nothing more."
---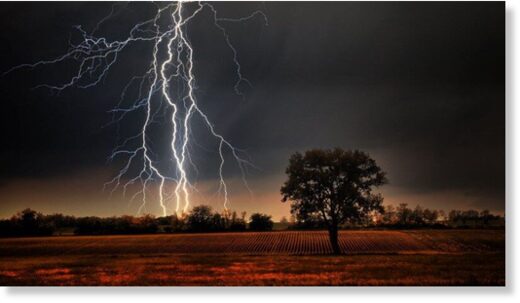 Three people were killed and five others injured when a lightning struck a house in Sala Visey commune's Koki village in Kampong Thom province's Balaing district on May 27.
District governor Vannak Sopheanit said all of the dead and injured were men aged 35 to 67. One of the injured was in critical condition.
"They were all workers hired to construct a road in the commune. When it rained, they ran to take shelter under a house nearby and was struck by lightning," he said.
According to a report from the National Committee for Disaster Management, in January-April lightning strikes killed at least 19 people and 21 cattles.
---
RT
Fri, 28 May 2021 12:16 UTC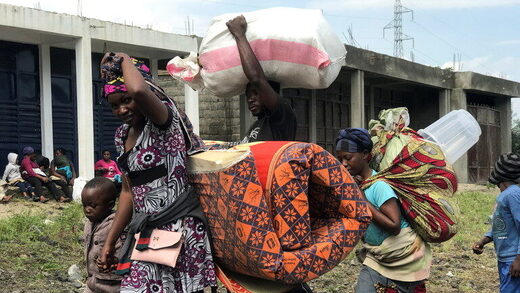 Thousands have fled the Congolese city of Goma after the region's military governor ordered a partial evacuation and scientists warn of a potentially catastrophic limnic eruption, which could smother the area with deadly gas.
On Friday morning, Goma, in eastern Democratic Republic of the Congo, was almost deserted, with shops closed and just a handful of people on the streets.
Ndima Kongba, the military governor of North Kivu province, ordered the evacuation of the city of 600,000 people on Thursday
amid fears of further volcanic activity after Saturday's eruption
.
---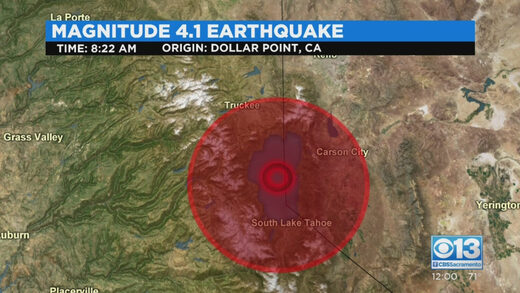 A 4.2 magnitude earthquake has shaken the Lake Tahoe area Friday morning.
According to the
US Geological Survey
, the quake struck just before 8:30 a.m. and was centered about 5 miles southeast of the unincorporated community of Dollar Point.
This puts the epicenter of the quake right in the middle of Lake Tahoe.
Comment:
On the 17th May CBS Sacramento
reported
that the increase in quakes appear to reflect the region being in an active period and that it may foreshadow larger quakes:
Frequent earthquakes across Northern California over the last several weeks have sparked questions about the natural disasters ahead.

State Geologist Steve Bohlen with California Geological Survey says the region has recently experienced earthquakes in rapid succession.

"We happen to be in a bit of an active period right now," said Bohlen.

At the end of April, a 3.8-magnitude earthquake hit the center of Lake Tahoe, followed by a 4.7-magnitude earthquake in Truckee, which was felt from Sacramento all the way to Reno.

"That was the biggest one I felt since I was out here. There were some lights and stuff swinging, something fell off the wall," said Ryan Callahan, who was at the Tourist Club in Truckee when the earthquake hit.

Seismologists tracking the activity say there's another, uncommon threat as well.

"There is a Tsunami hazard around Lake Tahoe," said Bohlen, who explains a magnitude-7 earthquake coming from the lake, though unlikely, could cause Tsunami-like waves.

"It would be significant emergency response effort in the Tahoe area if a magnitude-7 were to occur," he said.

How would you know if a Tsunami hit?

"If you feel an earthquake for [an] extended period of time, you really ought to think about moving to higher ground as quickly as possible," he said.

"It's an interesting idea thinking there could be a tsunami in Lake Tahoe," said Logan, who's visiting North Lake Tahoe this week.

But Tsunamis aren't something to sell your lakefront house over. Bohlen says just be prepared.

"Californians should have a safety kit with food, water...have a family plan of how to get together...when cellphones are down," he said.

An early warning system called Shake Alert could give precious extra seconds when an earthquake does hit.
---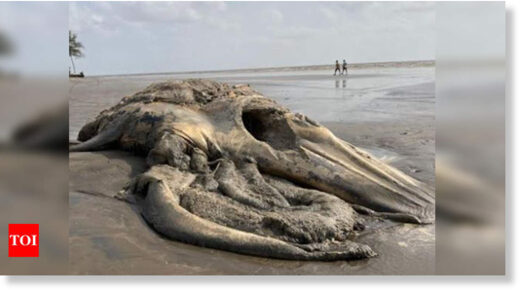 An 18-feet-long carcass of a whale was washed ashore at Malvan near Nargol beach in Valsad on Wednesday. Forest officials could not confirm the species of the whale since it is decomposed.
Locals spotted the carcass early on Wednesday and they alerted forest officials. A team of forest officials visited the spot and collected samples for further investigation to find out if the whale was killed or died naturally.
"Its postmortem is not possible since the carcass is decomposed. We will try to find out if it is natural death or if it was killed," deputy conservator of forest Yadu Bhardwaj told
TOI.
---
Jon Manchester
Castanet
Fri, 28 May 2021 18:32 UTC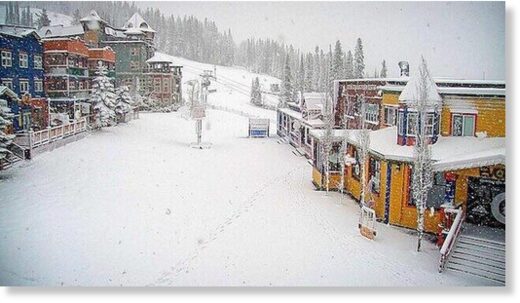 It may almost be June, but Vernon's Silver Star Mountain received a fresh dusting of snow this morning.
Webcam images from the resort show snowing falling as of 8 a.m. and the village covered in white.
The Star wrapped up for ski season over the Easter long weekend and is preparing for its summer bike park opening on June 25.
Down in the valley, today's forecast calls for mostly cloudy skies and a high of 15 C.
---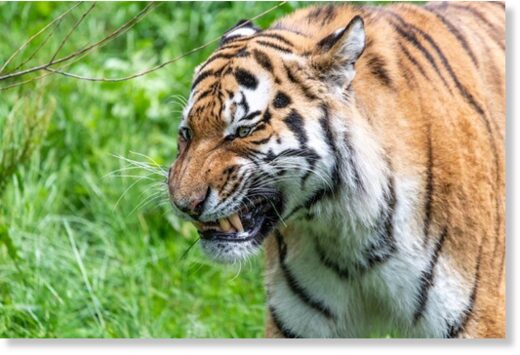 A tiger claimed yet another human life in forest near Saigaon-Kalamgaon village under South Bramhapuri range on Wednesday morning.
The victim Bhaurao Dodkuji Jambhule (42), a resident of Chichkheda village, had gone to forest compartment no. 165 in Vandra beat with others to pluck tendu leaves, when a lurking tiger killed him on the spot.
South Bramhapuri RFO, AP Mendhe, rushed to the spot and removed the body after inquest formalities. An ex gratia of Rs20,000 was given to the kin of the deceased.
This is 20th human kill in predator attacks in the district this year. Of these, 17 were killed by tigers, two by leopards and one in elephant attack.
---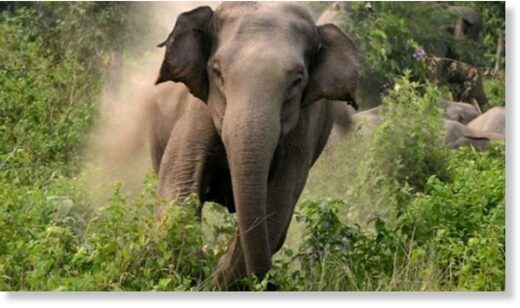 A woman and her daughter were killed when a wild elephant fatally attacked them in Bardia on Monday night.
The animal that had barged into a human settlement near Bardia National Park attacked Chanda BK, 37, and her three-year-old daughter Dipika BK of Geruwa Rural Municipality at around 10 pm.
The critically injured mother daughter duo was rushed to Nepalgunj Teaching Hospital, Kohalpur in Banke district where they breathed their last during treatment.
The incident had taken place while the two were sleeping in the courtyard of their house to escape the heat inside.
---