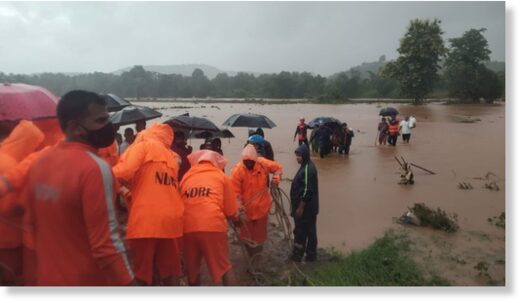 Massive rescue efforts are underway after heavy monsoon rainfall continues to wreak havoc in Mumbai and surrounding areas of the state of Maharashtra in India.
Some areas in Maharashtra recorded more than 1,000 mm of rain in 48 hours.
In Mumbai, heavy rain caused a building to collapse in the Govandi area early on 23 July 2021. Rescue operations are ongoing but media reports suggest 7 people have died and 3 injured. Just last week at least 20 people died in similar circumstances after several homes were destroyed in the Mumbai suburbs of Chembur and Vikhroli as a result of the heavy rain and landslides on 18 July.
Wider areas of Maharashtra state have been severely affected, resulting in massive rescue operations across several districts. Hundreds of people have been rescued so far, with many more still in need of help.
India's National Disaster Response Force (NDRF) has deployed teams to the districts of Ratnagiri, Kolhapur, Raigad, Nizamabad, Satara, Sangli, Thane and Palghar. Units of the Coast Guard, Indian Navy and the Indian Army have joined the rescue and relief efforts in several areas, notably in Ratnagiri and Raigad districts.
The Indian Air Force has also undertaken rescue efforts using helicopters in Chiplun in
Ratnagiri, where flood waters are so high residents have taken refuge on the roofs of houses.