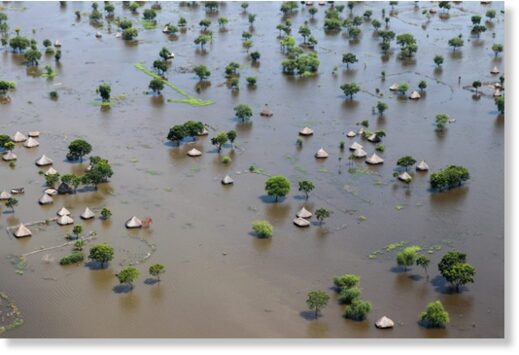 Ongoing floods in South Sudan have affected more than 835,000 people across 8 states.
Livelihoods, food production and drinking water supply have all been severely impacted. Humanitarian agency Concern Worldwide described the flooding as the worst in 60 years, and estimates over 200,000 people have been forced to leave their homes.
Flooding began with the onset of the rainy season in May this year. In July 7 people died in floods which submerged several homes in Mayendit County. Flooding worsened considerably in the following weeks and by 01 September over 380,000 people across 6 states were affected.
In a recent update, the United Nations said flooding has now affected more than 835,000 people in 33 of South Sudan's 78 counties.
Jonglei, Unity and Upper Niles remain the worst impacted states, with some 80 per cent of the total cumulative number of affected people, the UN said. The situation in particularly bad in Jonglei State, where 305,000 people affected, followed by Unity (220,000 affected) and Upper Nile (141,000 affected).