Tens of thousands of Britons were left without power in northern England on Monday after an electricity substation flooded so badly engineers were only able to get back into it on Tuesday, network operator National Grid said.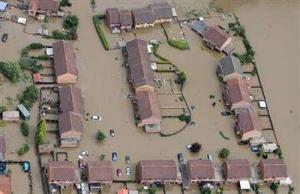 ©REUTERS/Owen Humphreys
Aerial view of the flooded village of Catcliffe near Sheffield, following two days of heavy rain which caused floods in Yorkshire, June 26, 2007.
About 35,000 homes and businesses had their electricity cut on Monday after the Neepsend substation in Sheffield flooded in torrential rain.