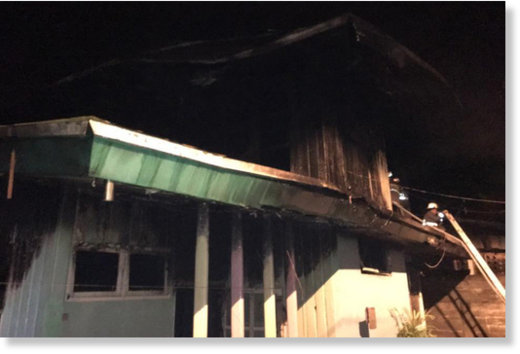 Lightning struck a house here past midnight Saturday, allegedly igniting a fire which killed two people.
According to the Banggoy Fire Station, witnesses claimed that lightning hit the house of Eden Josephine David, the assistant regional director of the Department of Tourism-XI, at Purok 4, Barangay 33-D before the fire started.
The lightning possibly hit the main electricity line, causing fire to break out at the second floor of the house. It spread quickly as the house was made of light materials.
David's nine-year old son John Brent and their 19-year old housemaid Kimberly Luayon died in the fire.
David, her daughter, sister-in-law Imelda Motoc, and housemaid Rowena Arisgado sustained minor burns.
Another househelper identified as Reymar Sabordo suffered 3rd degree burns on her body.