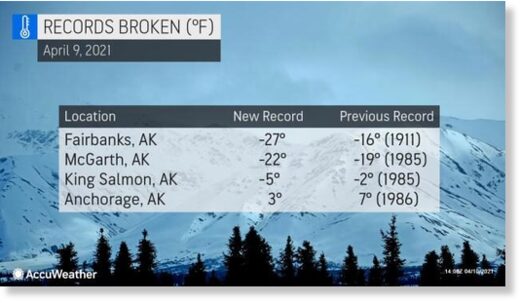 Low temperature records fell throughout parts of Alaska this past week, and the same intense cold has began to infiltrate the Pacific Northwest of the United States.
The historic cold blast settling into Alaska at the end of the week sent temperatures plummeting far below zero, so cold, in fact, as to topple several long-standing records.
Fairbanks dropped to a staggering 27 degrees below zero on Friday, smashing the century-old record of 16 below zero from 1911.

Cities like McGrath and King Salmon also dropped below zero, and set new records.

Even in cities like Anchorage, where the temperature didn't drop below zero, the mercury in thermometers did fall just enough to still break the daily record from 1986.