Earth Changes
Manuel Petitat
YouTube
Fri, 09 Apr 2021 17:46 UTC
---
Jacob McMaster
Magnet
Tue, 06 Apr 2021 12:49 UTC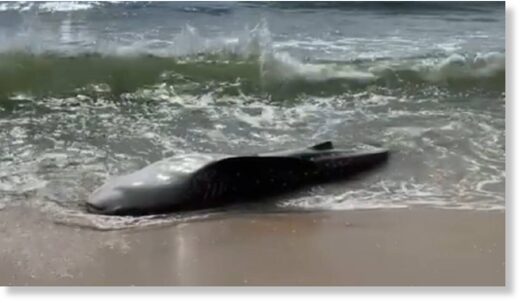 The remains of what appears to be a juvenile whale shark have washed up on Terrace Beach near Eden on Tuesday April 6.
Whale sharks are the largest fish species in the world and can grow to 10-15 metres, but Matt Azzopardi and his family who reported it to Fisheries and National Parks measured it to around four metres.
"It was an incredible experience - we thought it was still alive coz it was rolling in the surf," Matt said.
"It was quite surreal to see it, I paced it out myself to a conservative three and a half metres to over four metres."
Fisheries have since measured it to almost exactly five metres.
Matt made the find with his partner Allison Falzon and their two sons Mason and Jakim, sharing video to their Facebook page Shotgun Odyssey - Travel Oz.
---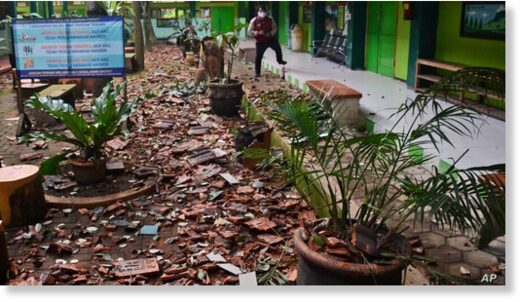 An intermediate magnitude 6.0 earthquake was reported early afternoon near Blitar, East Java, Indonesia.
According to the German Research Centre for Geosciences (GFZ), the quake hit on Saturday 10 April 2021 at 2:00 pm local time at an intermediate depth of 87 km.
The exact magnitude, epicenter, and depth of the quake might be revised within the next few hours or minutes as seismologists review data and refine their calculations, or as other agencies issue their report.
Our monitoring service identified a second report from the European-Mediterranean Seismological Centre (EMSC) which listed the quake at magnitude 5.9.
Comment:
Update
: April 11,
report
by AP:
8 Dead, Dozens Hurt as Indonesia Quake Shakes East Java



A strong earthquake on Indonesia's main island of Java killed eight people, including a woman whose motorcycle was hit by falling rocks, and damaged more than 1,300 buildings, officials said Sunday. It did not trigger a tsunami.

The U.S. Geological Survey said the magnitude 6.0 quake struck off the island's southern coast at 2 p.m. Saturday. It was centered 45 kilometers south of Sumberpucung town of Malang District in East Java province, at a depth of 82 kilometers.

Rahmat Triyono, the head of Indonesia's earthquake and tsunami center, said the undersea tremblor did not have the potential to cause a tsunami. Still, he urged people to stay away from slopes of soil or rocks that have the potential for landslides.

This was the second deadly disaster to hit Indonesia this week, after Tropical Cyclone Seroja caused a severe downpour Sunday that killed at least 174 people and left 48 still missing in East Nusa Tenggara province. Some victims were buried in either mudslides or solidified lava from a volcanic eruption in November, while others were swept away by flash floods. Thousands of homes with damaged.

Saturday's quake caused falling rocks to kill a woman on a motorcycle and badly injured her husband in East Java's Lumajang district, said Raditya Jati, spokesperson for the National Disaster Mitigation Agency.

He said about 1,189 homes and 150 public facilities, including schools, hospitals and government offices, were damaged. Rescuers retrieved four bodies from the rubble in Lumajang's Kali Uling village. Three people were also confirmed killed by the quake in Malang district.

Television reports showed people running in panic from malls and buildings in several cities in East Java province.


Indonesia, a vast archipelago of 270 million people, is frequently struck by earthquakes, volcanic eruptions and tsunamis because of its location on the "Ring of Fire," an arc of volcanoes and fault lines in the Pacific Basin.

In January, a magnitude 6.2 earthquake killed at least 105 people and injured nearly 6,500, while more than 92,000 were displaced, after striking Mamuju and Majene districts in West Sulawesi province.
---
ABC 13
Sat, 10 Apr 2021 06:55 UTC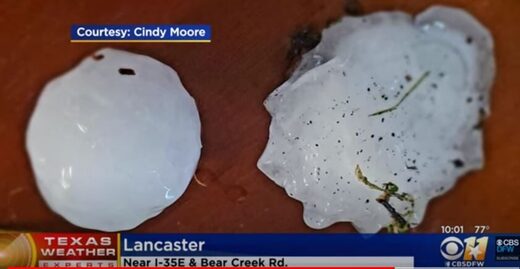 Severe thunderstorms dropped large hail stones the size of baseballs Thursday night across the Brazos Valley, damaging cars and homes.
Images and videos from the region showed the hail as it pelted vehicles and left dents in their wake.
Police cars on the scene of an earlier mass shooting were among the damaged cars, according to KBTX-TV.
The flagship campus of Texas A&M University in College Station was covered in ping pong-size hail after the storms passed.
Severe thunderstorm and tornado warnings were issued for the region as the system moved eastward.
---
Xinhua
Sat, 10 Apr 2021 14:21 UTC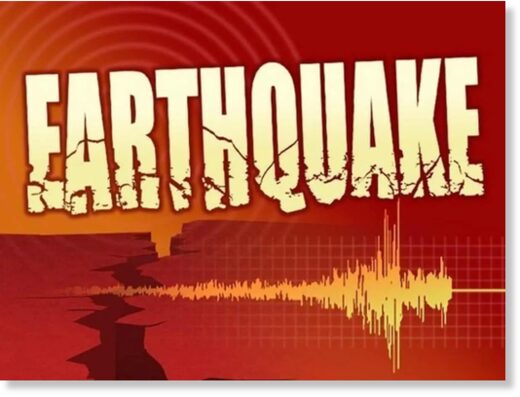 An earthquake with a magnitude of 6.0 jolted 195 km N of Madang, Papua New Guinea, at 1138 GMT on Saturday, the U.S. Geological Survey (USGS) said.
The epicenter, with a depth of 10.0 km, was initially determined to be at 3.4527 degrees south latitude and 145.7212 degrees east longitude.
---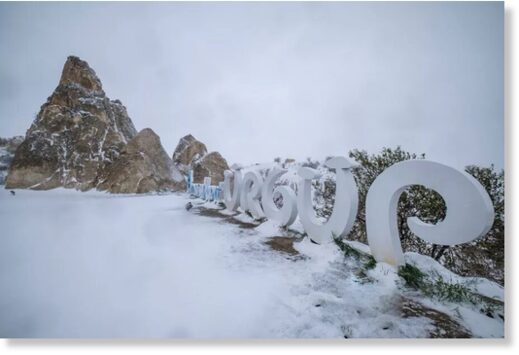 Hilly stage from Nevşehir to Ürgüp covered in spring snow
The opening stage of the Tour of Turkey has been cancelled
after heavy snow covered the elevated hills
between Nevşehir and Ürgüp in central Turkey that were due to host Sunday's first stage.
Riders awoke to heavy snow falls on Saturday and with more wintery conditions expected, race organisers were forced to cancel the stage.
The 167.3km stage was due to climb up to 1400 metres five times from a start point of 1200m before finishing in Ürgüp but the weather conditions made racing impossible.
---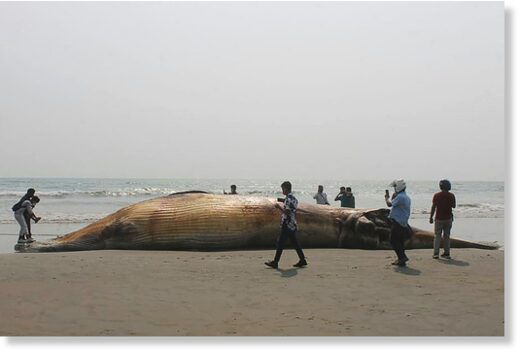 Two dead whales, one of which is 16-meters long, washed up on Bangladesh's shore over two days, officials said Saturday, raising suggestions that they were killed by sea pollution.
Officials said the second, much longer whale washed up on Himchhari Beach, outside the resort city of Cox's Bazar, at around 8:30 a.m. (2:30 a.m. GMT) Saturday, just a day after the carcass of another Bryde's whale was found 2 kilometers (1.25 miles) from the spot.
"The carcass of the whale found today is at least 50 feet (16 meters) long and 10 feet wide. It weighs 3 to 4 tonnes," Jahirul Islam, executive director of the Cox's Bazar-based Marine Life Alliance, told AFP.
Islam said the whales could have been killed in a collision with a ship plying the Bay of Bengal, or have died after eating plastics that litter the sea.
---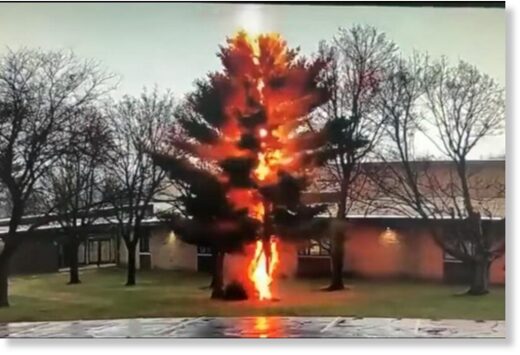 Mother Nature flexed her muscle Thursday when a lightning strike took down a tree outside Wautoma High School.
Principal Jennifer Johnson says it happened at about 8:25 a.m. while 9th and 10th grade students were preparing to take the ACT Aspire test.
No one was hurt and there was no damage to the school.
"Initially, the students and staff were startled by the event; however, after realizing what had just happened, they were fascinated by the rare incident that occurred just feet from them," said Johnson.
---
Xinhua
Sat, 10 Apr 2021 10:44 UTC
---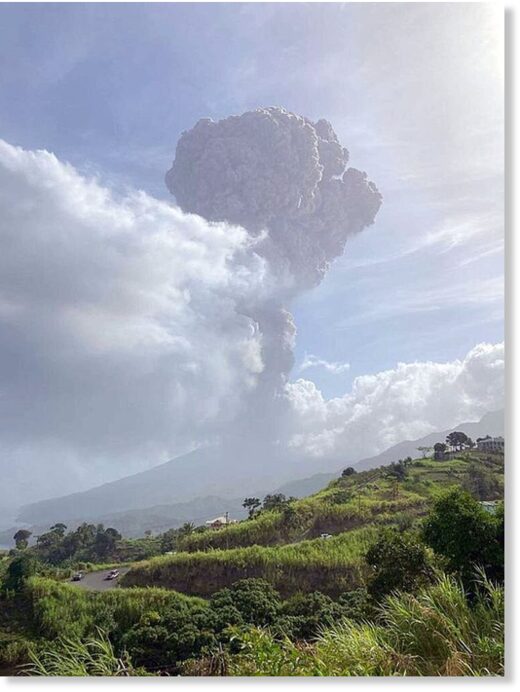 National Emergency Management Organisation warned residents to leave and said ash plume had reached 20,000ft
The Caribbean island of St Vincent has been rocked by an explosive eruption of La Soufrière volcano, which spewed clouds of ash miles into the air a day and forced thousands to flee for safety.
The country's National Emergency Management Organisation (Nemo) confirmed on Twitter that the 4,049-foot volcano had erupted on Friday morning and warned residents to leave the surrounding areas.
Pictures shared on social media showed towering plumes of gas and volcanic matter billowing into the sky above the volcano, and heavy ash fall was reported in the surrounding areas.
"The majesty that is La Soufrière is awake in all her terrifying glory,"
tweeted
Heidi Badenock, a lawyer on the island.
---