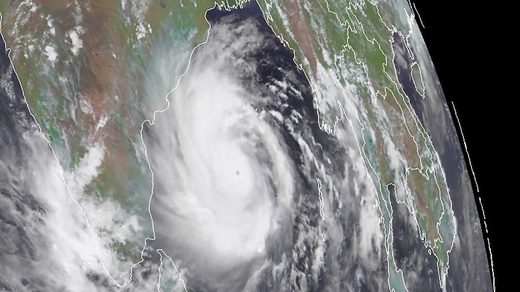 After a spectacular bout of rapid intensification on Sunday, Tropical Cyclone Amphan poses a grave storm-surge threat to the highly vulnerable coastline of the upper Bay of Bengal. The Joint Typhoon Warning Center (JTWC) upgraded Amphan to the equivalent of Category 5 strength at 2 am EDT Monday, with top 1-minute sustained winds estimated at 140 knots (160 mph).
On the scale used by the Indian Meteorological Department (IMD), Amphan was
upgraded
at 3 am EDT Monday to the highest possible level: super cyclonic storm. Only a handful of storms —
about one per decade
— achieve this level, which corresponds to a three-minute-averaged wind speed of 120 knots (140 mph). Hurricane ratings by the National Hurricane Center and JTWC are based on one-minute averaging, which will yield higher wind speeds for a given storm.
Amphan took advantage of very favorable conditions in the southern Bay of Bengal to strengthen incredibly quickly over the weekend. Drawing on very warm sea surface temperatures of 31°C (88°F), high oceanic heat content, and light wind shear, Amphan
bolted
from minimal tropical storm strength (35 knots or 40 mph) to Category 5 equivalent strength (140 knots or 160 mph) in just 48 hours — and from minimal hurricane strength (65 knots or 75 mph) to Cat 5 equivalent strength in just 24 hours.