Earth Changes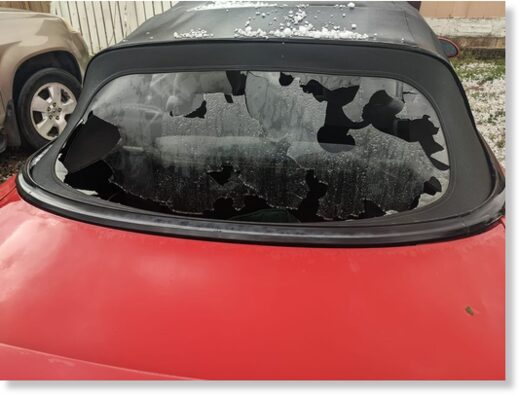 Residents in some parts of southwestern and central-eastern Utah were pelted with massive hailstones Sunday afternoon.
MORE:
https://www.fox13now.com/weather/mass...
---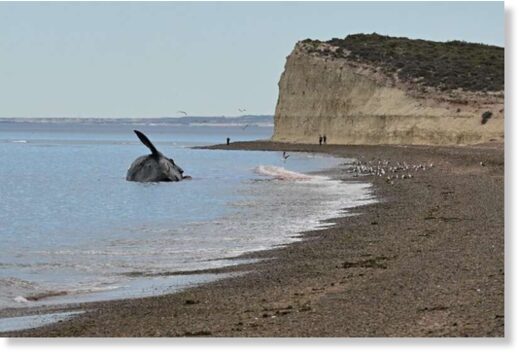 A string of whale deaths in recent days in southern Argentina have worried scientists, who think a micro-algae could be to blame.
From September 24 to October 2, at least 13 southern right whales died in the Nuevo Gulf close to the Valdes Peninsula in Argentine Patagonia, an area that is a sanctuary and breeding ground for the huge mammals, the Whale Conservation Institute (ICB) said.
Authorities have started performing autopsies on the whales that have been recovered and have begun testing the water and mollusks "to determine the presence of possible biotoxins linked to the proliferation of harmful algal blooms known as red tides," said whale program coordinator Agustina Donini in an ICB statement released Monday.
---
Jane Nixon
1News
Wed, 05 Oct 2022 09:33 UTC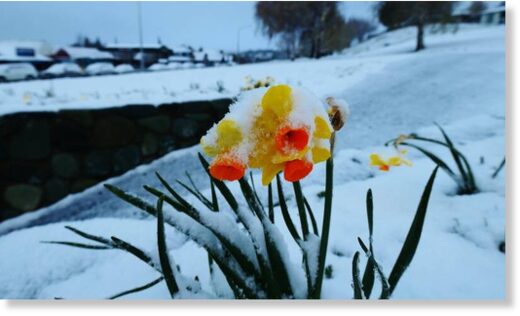 Many parts of New Zealand woke to icy temperatures this morning, with parts of the South Island down to single digits as snow and southerlies settled in.
Snow has fallen in parts of the South Island and 1News has been sent pictures and video of snow falling in Methven and Tekapo in Canterbury.
MetService forecasts a further drop in temperatures overnight with most regions expected to experience the wave of unseasonable snow and cold weather.

MetService says the intense cold outbreak will spread northwards over the country today and on Thursday, bringing low snow to the South Island and the lower North Island.
---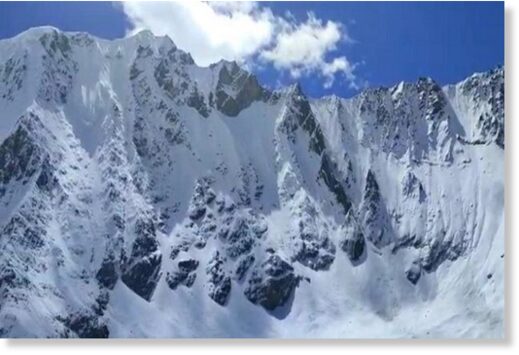 Pithoragarh (Uttarakhand) : The last outpost near the China border in the Darma Valley of Uttarakhand received the
third snowfall of this season
.
As there has been more than one foot of snow here, the cold has increased in 14 villages of Darma valley and seven villages of Vyas valley in the high Himalayan region.
---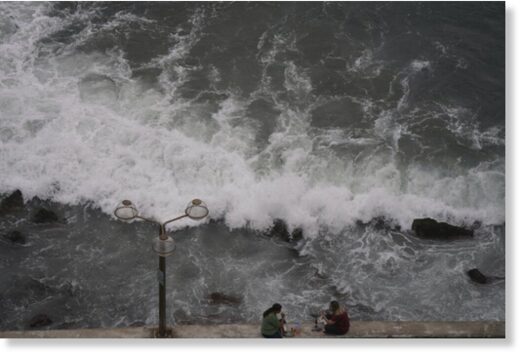 Hurricane Orlene has made landfall on Mexico's Pacific coast near the tourist town of Mazatlán, with winds of more than 80mph (130km/h).
Electrical cables swayed and sent off showers of sparks in the town of El Rosario, about 40 miles (65km) south of Mazatlán, close to where the hurricane hit.
Orlene lost some strength after roaring over the Islas Marías, a former prison colony being developed as a tourist draw. The main island is sparsely populated, mainly by government employees, and most buildings there are made of brick or concrete.
The hurricane's winds slipped back to 85mph as it hit land about 45 miles (75km) south-east of Mazatlán on Monday morning, according to the US National Hurricane Center.
---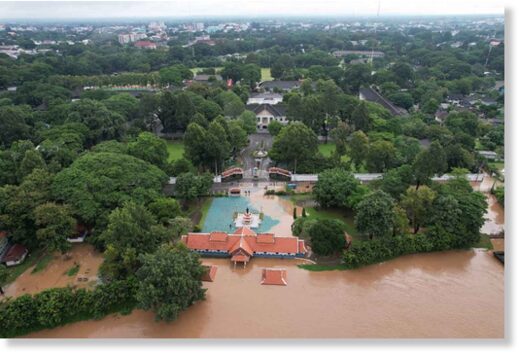 Heavy rain in northern, northeastern and central Thailand worsened severe flooding in many parts of the country on Monday, as authorities ordered the release of water into already overflowing rivers from dams that were filled to capacity.
Many areas were already flooded from seasonal monsoon rains when the remnants of Tropical Storm Noru, which earlier tore through the Philippines and Vietnam, swept through parts of the country last week.
Among the areas hit by flooding were Chiang Mai, a large city and tourist center in the north, and Sukhothai, an ancient capital and archaeological site that draws many visitors.
The Department of Disaster Prevention and Mitigation reported that floods had impacted at least 45,000 households in 35 provinces.
---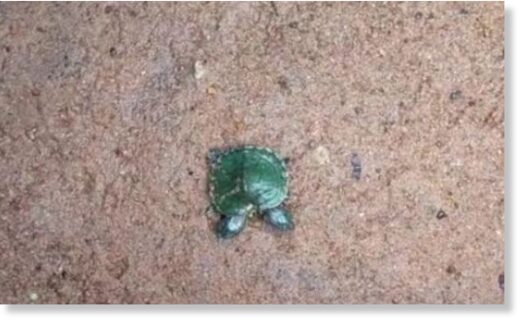 A rare two-headed turtle has hatched at the reptile park of Nandankanan Zoological Park, on the outskirts of Bhubaneswar, reports said on Tuesday.
"One of the two hatchlings born to a turtle, belonging to the rare red-eared slider species, on Monday turned out to be two-headed," said zoo deputy director Sanjeet Kumar.
He further said it could be a case of genetic disorder and needs to be studied by experts.
This is perhaps the first instance of a turtle with two heads being born in Nandankanan. Curators and veterinarians of the zoo are consulting the Wildlife Institute of India (WII) and other experts. It has been kept in a container at the reptile park and zoo officials are trying to provide a suitable environment for the young one, sources said.
The red-eared slider turtle is an attractive animal because of its tiny size and appealing colour.
---
Santiago Sebastián
cphpost.dk
Fri, 16 Sep 2022 10:36 UTC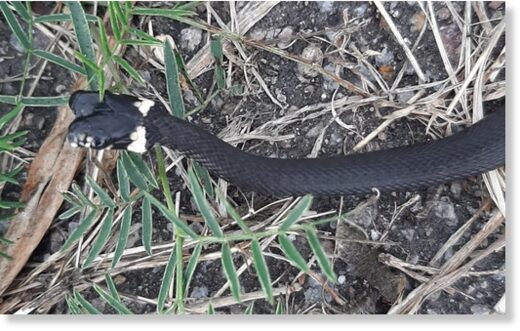 A visitor to Kalvebod Fælled in Amager was surprised the other day to come across a snake crossing the road in front of him. And even more shocking, the snake had two heads!
This is the second time in Danish history that a two-headed snake has been documented in the wild.
The first sighting was in Odsherred, which is also in Zealand.
A rare phenomenon
Naturstyrelsen guide Jes Aagaard confessed to TV2 that the only thing he can say with certainty is how big the snake it. He could not confirm how it feeds, how it hunts or which head is dominant.
He believes the extra head formed from a group of cells that were somehow misdirected.
"I can't say what the frequency is, but it's definitely rare. I would call it a small sensation," added Aagaard.
---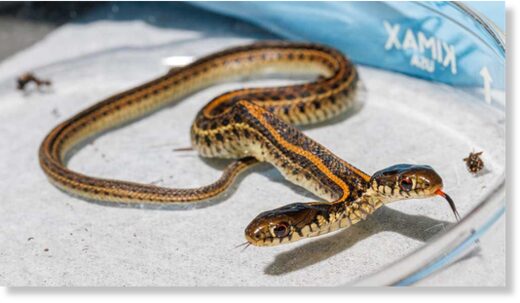 A Nebraskan resident was startled to find a bizarre creature while clearing logs in a fire pit outside of his girlfriend's home.
The unusual reptile was found in the city of Clay Center by Joshua Marshall, 45, who said: "I was clearing brush in a fire pit area. I went to move a log and it was underneath. My first reaction was that I thought it was two snakes. Then, when it couldn't decide which way to go, I realised it was one snake with two heads. The snake looked perfectly normal beyond the two heads. I have no idea how the mutation occurred."
Mr Marshall collected the serpent — which was a species of garter snake, native to the area — and placed it in a jar in order to show it to an expert.
---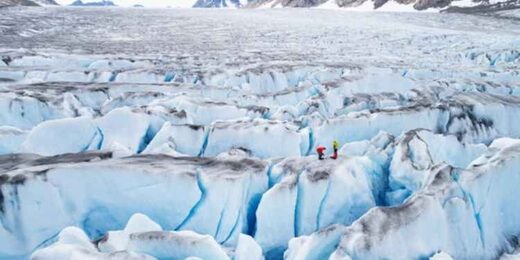 A popular scare story running in the media is that the Greenland ice sheet is about to slip its moorings under ferocious and unprecedented Arctic heat and arrive in the reader's front room any day now (I exaggerate, but not much).
Meanwhile back in the scientific world, scientists are scrambling to understand what natural causes lie behind the sudden slow-down in Greenland's summer warming and ice loss dating back to 2010. The recovery of Arctic summer sea ice has been spectacular of late, with the U.S.-based National Snow and Ice Data Center
reporting
that this year's September minimum was 1.28 million square kilometres higher than the 2012 low point of 3.39 million square kilometres.
Three Japanese climatologists have
recently published
a paper noting that "frequent occurrence of central Pacific
El Niño
events has played a key role in the [abrupt] slow-down of Greenland warming and possibly Arctic sea ice loss".
Of course such findings play havoc with the simplistic 'settled' science notion that carbon dioxide produced by humans burning fossil fuel is the main, if not only, driver of global temperature warming or cooling - a notion that leads many green activists to claim that the climate will stop changing if society signs on to a 'Net Zero' CO
2
emissions agenda.
---