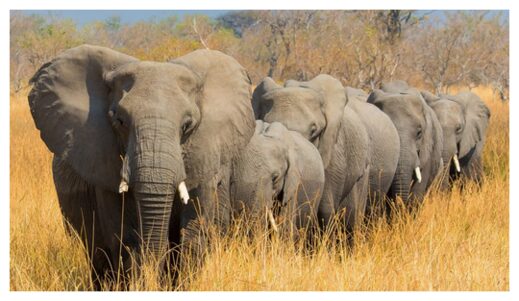 Die-offs of African elephants have once again erupted in Botswana. In just the first three months of 2021, 39 have succumbed.
The mysterious deaths occurred in the Moremi Game Reserve, in the northern part of the country, nearly 100 kilometers from a region of the Okavango Delta, where about 350 African elephants died during May and June in 2020. Puzzled scientists have been calling for thorough investigations as the government sends mixed messages on the cause of death.
Anthrax and bacterial infections had been ruled out in the new deaths and "further laboratory analysis is ongoing," Botswana's Department of Wildlife and National Parks reported in a March 24 news release.
However, the 39 recent deaths were linked, based on preliminary results, to the same cyanobacteria toxins blamed for last year's mass die-off, said Philda Kereng, Botswana's Minister of Environment, Natural Resources Conservation and Tourism, in a March 30 state television address.
Remote sensing of areas of last year's mass die-off supports the cyanobacteria theory. From March through July 2020,
cyanobacteria abundance increased
continuously as water sources were shrinking, researchers report online May 28 in the
Innovation
. With climate change, bodies of water get warmer and
toxic cyanobacteria thrive
.
Other evidence points to a pathogen as well. "The 2021 elephant mortalities are again specific to elephants, as was the case in 2020," says Shahan Azeem, a veterinary scientist at the University of Veterinary and Animal Sciences in Lahore, Pakistan.