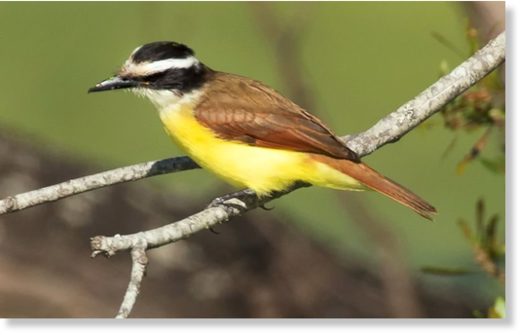 Avid birders have been flocking to the Bear Island Wildlife Management Area in Colleton County for the past 10 days to see
a bird that likely has never before visited the Palmetto State.
A great kiskadee - a large, "boisterous" flycatcher
typically found in South and Central America, Mexico and the southern edge of Texas
- was first spotted by nature photographer Kelley Luikey of Port Royal on the morning of Feb. 9.
"When I arrived at Bear Island that morning, the light and the birds were not cooperating in the areas I had planned on shooting, so I went looking for what else I could find," said Luikey, who was alone.
When she first saw the bird, her view was obscured by branches of a pecan tree, but she was able to keep tracking it because of its call, which is known to be loud and sounds like "kis-ka-dee."
"It was unmistakably something that we do not have here in South Carolina," said Luikey, recalling its bright colors.