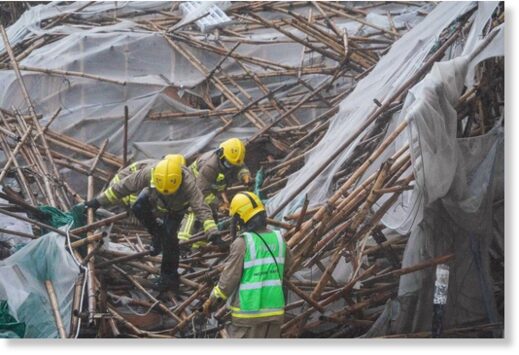 A worker died and three others were rescued by emergency services after massive scaffolding around a high-rise residential building in Hong Kong collapsed on Friday morning under the onslaught of heavy rain and strong winds brought by a typhoon.
Police said two women working on the site at the Beverly Hill estate on Broadwood Road in Happy Valley were found at the scene, one of whom was pulled unconscious from the debris while the other was unhurt.
The injured woman died in Ruttonjee Hospital in Wan Chai at about 12.45pm. Two trapped drivers were also rescued from their vehicles after the scaffolding crumpled onto the road below.
Torrential downpours prompted the Hong Kong Observatory to upgrade its rainstorm warning at 11.45am to black - the highest level and one that was last issued on June 28. The warning was downgraded to red an hour later, with heavy rain still lashing the city.